UKIE: Only 19% of parents set and enforce screen time limits for their children
Digital School House report finds just 44 per cent of parents talk to their children about online safety
Less than a quarter of parents set and actually enforce limits for the amount of time their children spend online, a report from UKIE's Digital School House has revealed.
'Online Safety: A Pupil's Perspective' surveyed over 2,000 students in primary and secondary schools across the UK; the report found that while children have good understanding of online safety, parents frequently don't, and do little to set boundaries for the amount of time their children spend online.
As video games continue to attract criticism from the mainstream media over issues like 'gaming disorder' or Fortnite-mania, one statistic in particular showed a disregard from parents over setting screen time for children.
Only 19 per cent of students surveyed said that their parents set, and actually enforce restrictions around the amount of time they spend online.
Adding to that, nearly 30 per cent said that limits are set, but not enforced, while 35 per cent reported that no limits are set whatsoever.
"Regardless of actual parental practice what's important here is the student's perception," the report reads. "If they don't perceive their to be limits placed upon their time spent, then they are unlikely to follow this in practice."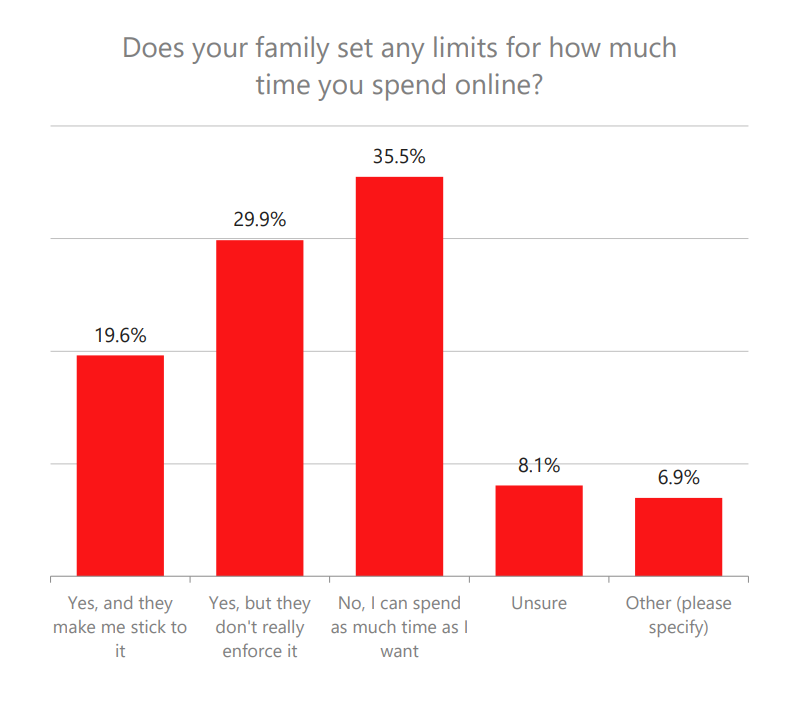 This issue is underlined by the fact that only 44 per cent of students' parents talk to them about online safety.
In terms of a parents' active involvement, just 32 per cent of students say their parents help them with privacy settings when playing games, compared to 45 per cent don't.
While parents are more involved if their children play games online, with 46 per cent of parents setting parental controls if their child plays online compared to 37 per cent of their child doesn't, it still demonstrates a low level of parental oversight.
It is perhaps fortunate then that 77 per cent of students know where to find information on how to play games online safely and responsibly.
Furthermore, the report found that children -- especially those who play online games -- have a high level of digital literacy, and understand the importance of privacy and online safety.
Of those surveyed, 78 per cent of respondents who play online games understood the importance of privacy settings, compared to 72 per cent of those who didn't.
That said, there was a clear disparity between those who knew about online safety and those who actually applied their knowledge.
The report found that while 85 per cent of boys know how to update their privacy settings on games consoles -- compared to 44 per cent of girls -- only 71 per cent of boys, and 40 per cent of girls, actually updated their settings accordingly.
"There is great potential here for the video game industry to continue to innovate as well as improve upon the visibility and awareness of existing resources and safety controls," the report reads.
"Ask About Games, PEGI age ratings, and parental controls commonly found in games and on consoles collectively help to inform and provide a safe environment for children of all ages to engage with video games. However, much more can be done to bring this to the attention of the wider public....
"Our ambition is to take these findings into consideration and use them to develop a set of recommendations that enable industry and education to collaboratively improve the provision of e-safety education both in schools and at home."
The full report can be found here, and includes a number of other insights around children and online safety.