DICE Europe positioned as "leadership retreat"
Martin Rae, president, Academy of Interactive Arts & Sciences, wants attendees to be able to bring their spouses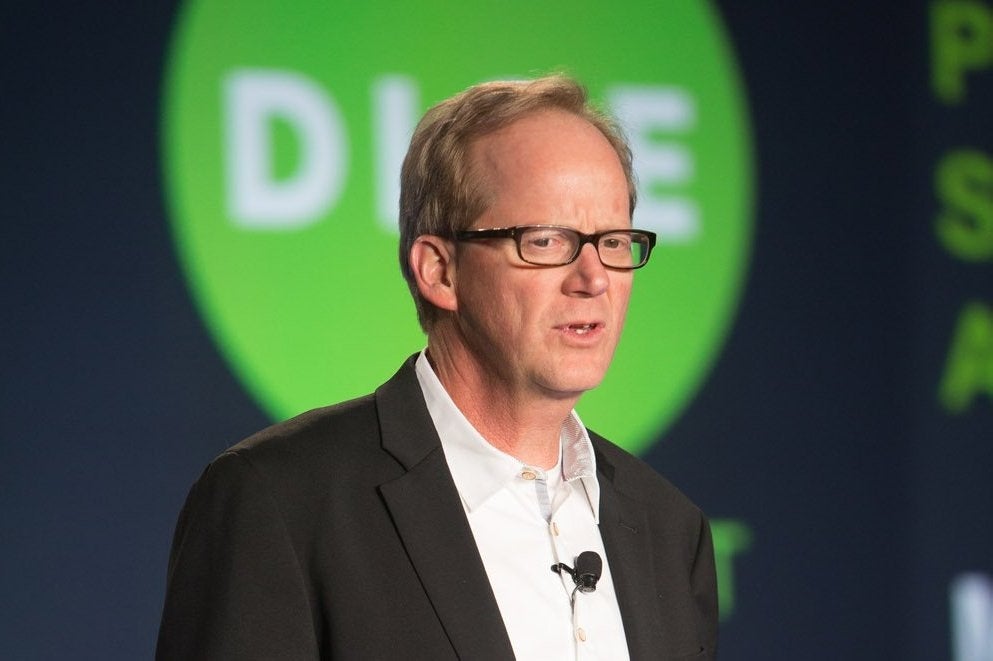 While the annual DICE Summit has been an industry favorite for the better part of two decades, DICE Europe is only entering its third year, when it takes place at the W Hotel Barcelona from September 13-15. This time around, not only is DICE Europe being held in a new city, but it's getting a revamped format too, the Academy of Interactive Arts & Sciences revealed to GamesIndustry.biz.
"A lot of registrants are actually bringing spouses and significant others and kind of making it an executive retreat or mini getaway, where they think they can get more done in that kind of setting," Martin Rae, president of the Academy, told us.
While the DICE Summit in Las Vegas offers a couple days of single-track presentations, Rae said that the goal for DICE Europe is to make everything far more interactive, with even more networking opportunities in a relaxed atmosphere.
"What we're doing this year in Barcelona is Sunday when you get in you'll have all of those networking events that everyone's included in, including spouses, and then Monday will be pretty focused on programming from speakers but all with Q&A and all with interactive pieces that allow people not just to get a delivered message but to interact with that message. Then the next day, our speakers, key people that are attendees, friends of the Academy, people that are influential in the business, we're going to break out into lots of roundtables where those people lead smaller groups around topics that people are interested in," he continued.
"If you're, for example, really focused on cozying up to Amazon or getting familiar with what programs they have or meeting some folks from Amazon and really talking through what their objectives are and your objectives are and how that platform develops over the next few years, then you can sit at that table and meet people who are similarly interested and meet folks from Amazon that want to develop a relationship and have that conversation. Whether it's platform or mobile or AAA console or technology, you'll be able to pick tables and route through those and really get some one-on-one, so it's different from normal DICE in that respect."
"If you're a sponsor or influential attendee, we're offering you the opportunity to extend invitations out to smaller developers, publishers and folks that maybe don't have the resources to come at a pretty enormous discount to the ticket price"
Last year's DICE Europe took place in London, and while Barcelona is a lovely city, the choice is interesting in that there isn't exactly a robust development scene there. As Rae pointed out, however, it's not like Las Vegas has much games development going on either.
"It really came about because many of the people who go to DICE really wanted a place where they could kind of cycle out a little bit and pay attention to who else was there, really spend some quality time with other registrants and people they hadn't had a chance to talk to or hadn't met before. And universally, Barcelona kept coming up as a city that people would want to go to, would enjoy it as more of an executive retreat and move in for two or three days and really get a lot of things done without all the hustle and bustle of 92 other meetings across town and that kind of thing," Rae said.
The change in format could, if things go very well, have an impact on the Vegas event too, Rae acknowledged: "I would be disingenuous about it if I said that this wasn't a little bit of test bed to see how it might work from a programming perspective because I do want going into Vegas to enrich the opportunities for people to develop meaningful relationships in a smaller setting, and even though DICE Vegas is relatively small, we could do a better job at helping facilitate that."
Talking with Rae about the executive retreat style conference with activities like ham and wine pairings, you can't help but get an elitist sense about the whole thing. It's undoubtedly a wonderful time for people like John Riccitiello or Eric Hirshberg, but what about the average developers and the upstart indies? For the Academy, those people definitely matter, Rae said, and in fact, ticket prices are being effectively halved from last year's London event to make it more accessible. Beyond that, Rae described a program that will allow certain influential attendees to invite others to attend at an ever cheaper rate.
"We're trying to attract folks that haven't had as much access as they would have liked and we'd like to have them there - if you're a sponsor or influential attendee, we're offering you the opportunity to extend invitations out to smaller developers, publishers and folks that maybe don't have the resources to come at a pretty enormous discount to the ticket price," he said. "There's a limited number but it's people they want to see there who can enrich the experience, so those people will be able to come at a really substantial discount. It will be much less than all the other conferences you can name. We're trying to target that group, because that group needs to be heard and to meet the people that can impact their business."
DICE Europe's theme this year (which will be extended to DICE in Vegas as well) is "The Art of Engagement," which as Rae noted "sums up what we're all trying to get done in this industry today, and that is how do you engage consumers, how do you engage developers, how do you engage employees, how do you engage everybody in doing the best possible work?"
"I just think it opens it up to personal passions, and when you open it up to personal passions you get better talks and better engagement at the conference," he added.
The initial round of speakers confirmed for DICE Europe include Michael Denny, Senior Vice President of Sony Computer Entertainment Worldwide Studios Europe, Alf Tan, Head of Games Business Development at Amazon, David Helgason, founder at Unity Technologies, Michael Pachter, Managing Director at Wedbush Securities, Tommy Francois, New IP Editorial Director at Ubisoft, and Greg Essig, Head of Business Development at FunPlus.
Registration at early bird rates is now open at the DICE Europe website.