Desert Bus For Hope has raised $3.1 million for Child's Play
Charity drive breaks record for ninth consecutive year with $676,000 haul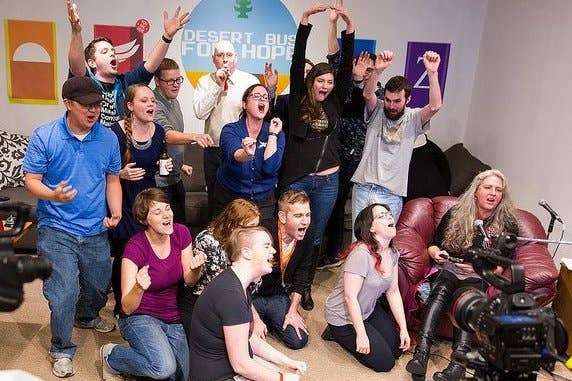 The online charity event Desert Bus For Hope broke its own record for the ninth consecutive year, raising $676,000 in a six-day gaming marathon.
Desert Bus was intended to be part of the 1995 Sega CD minigame collection, Penn & Teller's Smoke & Mirrors. The player has to drive a bus between Tucson and Las Vegas, along a long, featureless and perfectly straight road. The only wrinkle is a slight fault in the bus's steering, which requires the player to make constant minor adjustments to keep it on the road. The journey takes eight-hours, the reward for completion is a single point and the option to drive the return journey.
Desert Bus For Hope was started in 2007 by the Canadian comedy team Loading Ready Run. The initial target was a modest $5,000, but it ultimately reached almost $23,000. The centrepiece of the event is a marathon Desert Bus session, in which a string of players take back-to-back shifts on the game in return for escalating donation amounts.
This year ran to 159 hours, raising a record total of $676,883.57. Desert Bus For Hope has now raised $3.1 million for Child's Play, the Seattle-based charity that donates toys and games to kids with serious illnesses.
A statement on the Desert Bus For Hope website read: "Thank you, from the bottommost depths of our hearts. You are, indeed, the most generous community we know.
"Each year we have grown leaps and bounds, both in amount raised and the people involved. It's hard to believe that we have a volunteer staff of over 45 individuals. This team works year round in order to put this event on, but we don't do it alone."