Descenders has sold over 250,000 units
Nearly 3.5 million people have played the biking title across all platforms, thanks to its success on Xbox Game Pass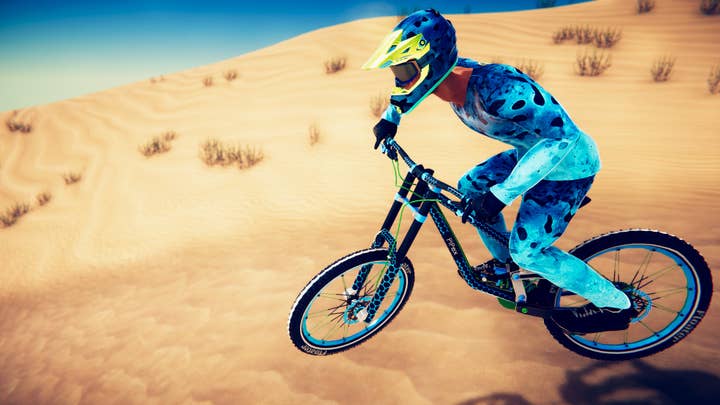 RageSquid's mountain biking game Descenders has passed 250,000 units sold, publisher No More Robots announced.
That's across Steam, Xbox and PlayStation, and represented over $5 million in revenue.
No More Robots' founder Mike Rose provided some more details on Twitter, saying that out of these 250,000 units sold, 150,000 were in the last year.
He also noted that the game has been extremely popular on Xbox Game Pass, with 250,000 new players trying the title there every month, placing it in the top ten of the most downloaded games on Game Pass. As a result, nearly 3.5 million people have now played Descenders across all platforms.
The game also hit its record number of concurrent players last week, with 5,170 players. When Descenders first launched in February 2018, it had around 200 concurrent players at its peak, with that number rising to around 1,000 mid-2019.
Descenders initially sold 10,000 units during its first month on Steam back in February 2018, with Rose noting that unlike most games Descenders didn't make most of its revenue at launch.
"For Descenders, the launch month revenue is just 4% of the game's total revenue to date -- $200k during launch, vs $5m now," he wrote.
Rose also detailed the reasons why Descenders has been so popular, especially in the long term.
"The theory was this: pick an activity that everyone knows how to do. Suss out whether that activity can translate well to a video game. Now potentially anyone can enjoy that video game, including groups you can't usually target with regular video game genres."
He added that the main points that helped this theory to come to fruition when it comes to Descenders were its price point and quality, constant updates, adding multiplayer and mod support, and having the game on Game Pass.
"I know I never shut up about it, but Game Pass was a major turning point for the game," Rose said. "Remember when PS Plus made Rocket League explode? Game Pass is doing (and continues to do) the same for Descenders, and we're currently exploring Series X stuff as a result."
Descenders was also released on Switch last week.