Denis Dyack returns with a new entertainment company
And Quantum Entanglement Entertainment is developing Shadow of the Eternals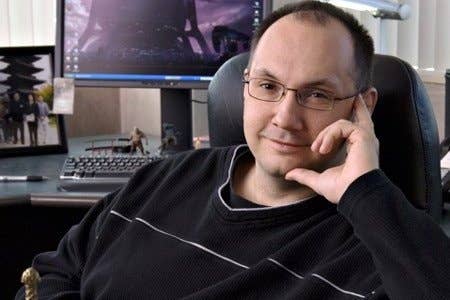 Silicon Knights founder Denis Dyack has started a new entertainment company, Quantum Entanglement Entertainment Inc. - or "QE2" for short.
QE2 will develop IP for television, film and games, based on the belief that, soon, the three different media will no longer be regarded as independent from each other. Along with Dyack, who will be CCO, QE2's co-founders are COO Paul Rapovski, a veteran TV producer who worked with Silicon Knights on Too Human, and CEO Jonathan M. Soon-Shiong, a former executive at the Canadian Broadcasting Corporation.
"Quantum Entanglement Entertainment is a natural evolution for myself and something I believe is the future of entertainment," said Dyack in a statement. "Technology has pushed the entertainment medium beyond the event horizon, and the opportunities are unprecedented.
"Together we have the expertise to make an incredible impact on the marketplace with diverse and specialised platforms for original IP."
The company has two projects listed as "under development" on its website: an unannounced IP that appears to be for either television or film, and Shadow of the Eternals, the game that Dyack failed to get off the ground at his previous company, Precursor Games.
A campaign to raise $1.5 million for Shadow of the Eternals was launched on Kickstarter in June, 2013, but it was cancelled a month later - ostensibly due to "new opportunities," though it had only raised $128,000 at that point.
The campaign was relaunched later that month, this time with a target of $750,000. Ultimately, it still fell short, with just over $320,000 raised.