Demand for Chinese, Italian localizations dipped last year
Translation firm LocalizeDirect says Thai, Polish, Turkish, and Vietnamese translations becoming more popular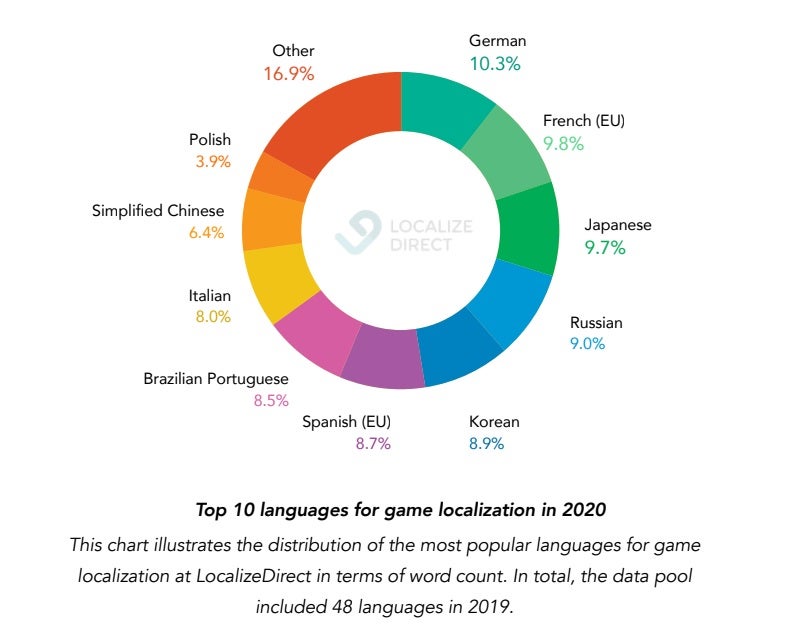 Developer demand for translations from LocalizeDirect shifted last year, the translation firm said today.
In a report compiled from more than 14,000 orders the company received last year, the company noted a number of trends in the languages developers wanted to translate their games into.
German was the most common request, accounting for 10.3% of all the company's translation work (measured by word count), followed by European French (9.8%), Japanese (9.7%), Russian (9%), and Korean (8.9%).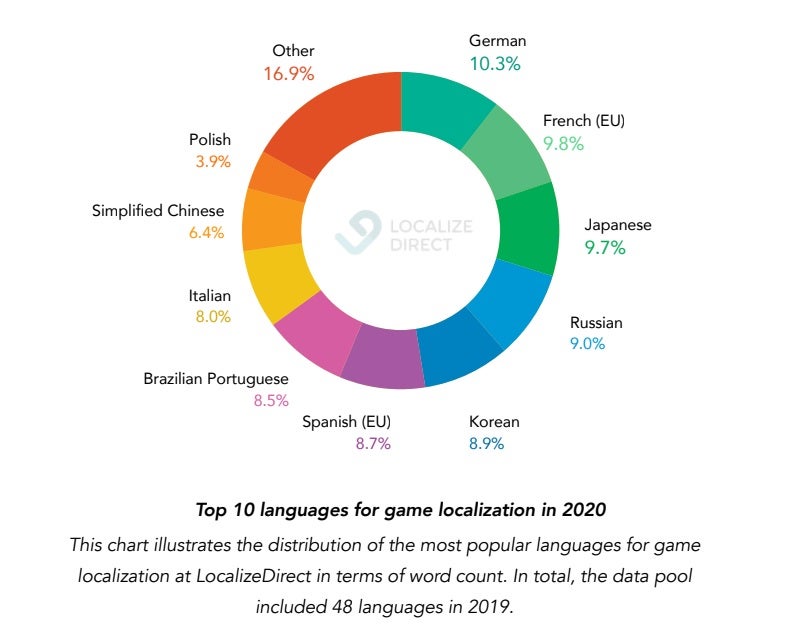 The firm noted a reduction in demand for a handful of major languages, including European Spanish, Italian, and Simplified Chinese. The report gave no explanation for the decline in European Spanish, but said the lowered interest in Italian translations could be partly due to economic stagnation in Italy.
Simplified Chinese dropped from 9% of the company's work in 2018 to 6% in 2019, despite the Chinese market continuing to be a huge and growing part of the global landscape. LocalizeDirect believes demand for the language has been hurt by the 2018 government freeze in game approvals.
LocalizeDirect cited Niko Partners data saying only 55 international games were approved for release in China in 2018. Even after the freeze was lifted, international game approvals did not bounce back to previous levels. In 2019, 185 international games were approved for release in China, far short of 2017's 467.
As for which languages were increasingly popular for LocalizeDirect's clients in 2019, the company specified Thai, Polish, Turkish, and Vietnamese as the largest gainers for the year. The company's Thai translation workload has quadrupled in the past four years, and it noted increased demand for Southeast Asian languages as well as languages in emerging markets.
Among last year's fastest growing languages, only Polish ranked in the company's top 10. It was the 10th most popular language for translation work, accounting for 3.9% of translated word count last year.
The report also included some insights into how developers approach translations. For example, it said that when a project has 50,000 words or less, developers have been most commonly aiming for launching with translations into 7-10 languages. For more text-heavy titles, they tend to roll out with 2-4 languages and add more over the course of a couple years.
Additionally, the report talked about the pros and cons of one common practice in translation of non-English games, specifically translating the game into English and then basing all other translations on that.
"By translating from the original language, localization quality and accuracy may be improved, but it may also be harder for developers to internally review the translation work," LocalizeDirect lead localization manager Rodrigo Souza Ramos said. "Additionally, skipping English may raise the cost for the whole localization process as there are more Russian-English and English-German game translators in the market than Russian-German localization specialists."