Dare to Be Digital winners announced
Raptor, Loan Wolf and Kind of a Big Deal go on to BAFTA nominations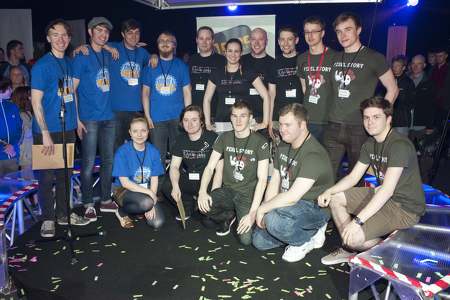 Raptor, Loan Wolf and Kind of a Big Deal have been chosen as the winners of Abertay University's Dare to be Digital competition, which includes nominations for BAFTA's 2013 'One to Watch' prize.
Fifteen finalists presented games which were played by a record-breaking 10,000 attendees. Kind of a Big Deal's Starcrossed, Loan Wolf's Pixel Story and Raptor's Project Thanatos were chosen by the panel for the three winners, with Raptor also winning the public prize of an Intel Ultrabook each. Loan Wolf Games took the £25,000 Channel 4 funded prize in its inaugural year.
"I'm hugely impressed with the standard of all the games on show and the professionalism and passion of all the Dare to be Digital teams," said BAFTA judge and GamesIndustry International columnist Johnny Minkley.
"It was a hard choice for the judges, but all three BAFTA nominees are strong games and very different games. It will be a really tough decision for the judges to pick the final BAFTA winner at the Video Games Awards next March."
"The entrants to Abertay University's Dare to be Digital get better and better every year, and all 15 teams have done something incredible - built a professional, playable and exciting game in just nine weeks," added Abertay's Louis Natanson.
"The BAFTA-nominated winners stood out from the tough competition for their exceptional game design, playability and commercial appeal, but all 15 teams have the experience now to enter the games industry or start their own businesses.
"We look forward to seeing, and playing, many successes from them in the future."