Cut the Rope dev takes aim at King trademark
ZeptoLab challenges Candy Crush Saga maker's claim to "candy" in European Union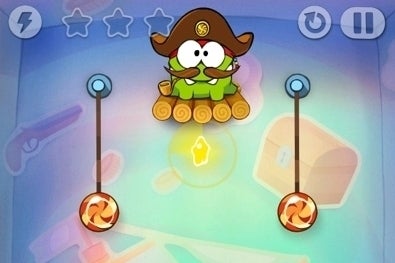 With King's IPO expected to finally take place tomorrow, the Candy Crush Saga maker is facing a fresh round of criticism over its trademark practices. Cut the Rope developer ZeptoLab UK today announced that it "has begun the process of cancelling King.com's registration of 'candy' in the European Union," submitting an official challenge to King's community trademark on the term.
King filed its application for the trademark over the word "candy" as it relates to games and clothing in February of 2013. It was published in March, and went the three-month opposition period without any challenges to that claim being made.
"Candy is an integral part of the Cut the Rope franchise," said ZeptoLab CEO Misha Lyalin. "And we do not support King.com trademarking and preventing others from using it."
ZeptoLab noted that King abandoned its application for the "candy" trademark in the US, but its EU filing remains in place. At the time, King explained that it felt the acquisition of the Candy Crusher IP was its best option for protecting its interests in the US, and that such a move had no bearing on the EU trademark.