Critical Consensus: Thank the Mario Maker
Nintendo's design-a-platformer game/tool draws high scores across the board despite some limitations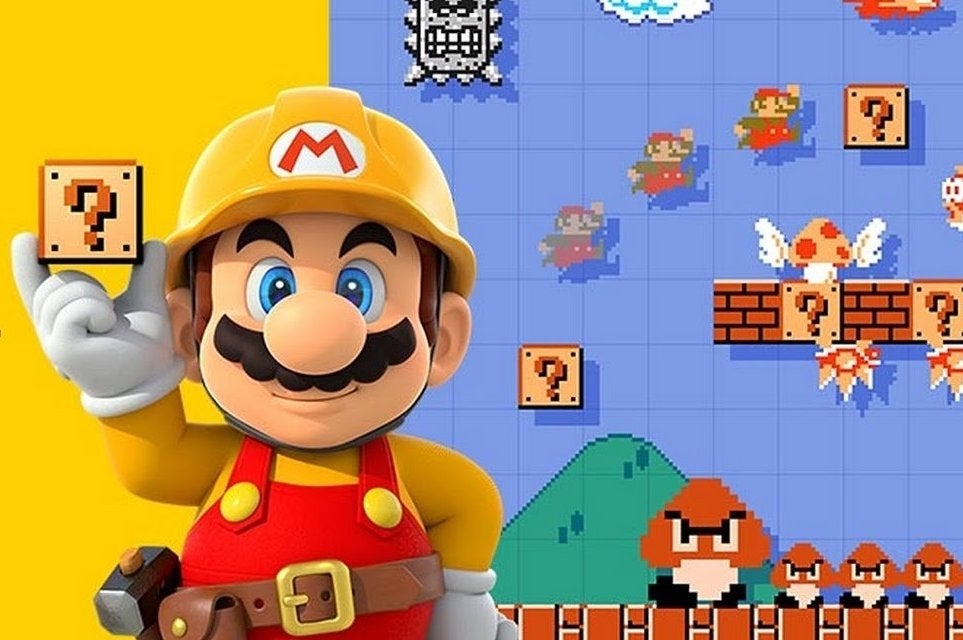 Why be Mario when you can be Miyamoto? The first wave of reviews for Super Mario Maker hit today, and the game creation kit that lets players make new Super Mario Bros. levels is reviewing about as well as a New Super Mario Bros. game. (Super Mario Maker currently sits at an 89 Metacritic average, which is also the highest average posted by the New Super Mario Bros. series, achieved with its original 2006 DS release.)
Jeremy Parish of GI.biz sister site USgamer gave the game a 5 out of 5, calling it a fitting way for Nintendo to mark the series' 30th anniversary.
"What better way to commemorate three decades of Super Mario Bros. than to put the tools for creating Mario games in the hands of fans? The series has long since become a part of the medium's vocabulary, and Super Mario Maker turns the act of creating new Mario adventures into a process as intuitive as the play mechanics it reproduces," Parish said. "Whether you're a serious student of game design, looking to kill a few minutes with your friends' creations, or an avid enthusiast of sadism through game design, you'll find something to love in Super Mario Maker."
He particularly praised the game's easy-to-use level creation interface, which lets players seamlessly jump between tweaking levels on the GamePad and trying them out instantly.
"It's taken three years, but Nintendo has finally made a truly compelling, ironclad case for the existence of the Wii U's Game Pad. This software simply wouldn't be possible in its current form with its current capabilities on any other platform, much as I'd love to see it on 3DS."
Polygon's Griffin McElroy was only slightly less enthused about the game, giving it a 9.5 out of 10 and calling it "a hands-on history lesson."
"Where other publishers might release a making-of documentary of their golden era, Super Mario Maker does the unthinkable: It lets you do the making of. I have had a tremendous amount of fun playing Super Mario Maker, but the way it developed that newfound appreciation for something I've known my whole life was the game's biggest accomplishment," McElroy said.
Like many reviewers, McElroy pointed out how Super Mario Maker lets players create novelty levels packed with ludicrous obstacles, but even "a nightmarescape of flying Piranha Plants and mutant Goombas" can't help but amplify users' appreciation of the original Super Mario Bros. games.
"Those too-busy levels are novel - there's something wonderful about subverting the designs of what is possibly gaming's most venerable franchise - but they really serve to highlight how good the good levels can be," McElroy said. "Every single piece of Super Mario Maker feeds into that loop, of learning what goes into (and what gets left out of) a truly great Mario stage. It's an education that extends into the game's source material; in tweaking Super Mario Bros.' World 1-1, you learn what a masterpiece that level really was."
IGN's Jose Otero saw the game more as a celebration of Mario than a history lesson, something he noted in his 9 out of 10 review.
"Each piece of this do-it-yourself toolkit is well thought out, with smart button-based shortcuts, a grid-based user interface, and simple drag and drop controls," Otero said. "The 60 individual building blocks you use to make levels -- from ground tiles to enemies -- unlock over a 9-day period. But this careful roll-out really works because you have plenty of time to tinker with new stuff and not feel overwhelmed by too many choices."
Not every reviewer embraced that timed unlock method, though all seemed to understand its benefits. Some were less understanding when it came to the game's other limitations. Destructoid's Chris Carter came in with one of the game's lower review scores, a still-impressive 8 out of 10.
"The more you play it, the more you'll realize that limitations are a recurring issue with Super Mario Maker, despite its immense charm," Carter said.
While the game lets players choose to make their levels in a variety of different themes based on previous Mario releases, Carter was unhappy that Super Mario Bros. 2 was largely overlooked in the effort. Additionally, an Amiibo-compatible feature that lets players replace Mario with other popular characters like Link or Pac-Man only works in the original Super Mario Bros. 8-bit theme and none of the more recent skins. He also expressed frustration with the lack of vertical stages, limitations on the number of enemies that can inhabit a level, and a mandatory countdown timer for all levels. Other reviewers also noted limitations; Parish disliked the lack of sloped surfaces, checkpoints, and partially submerged levels, calling them oversights that could chafe players.
"Super Mario Maker is a charming little creation tool, and I'm sure fans will come up with some amazing levels for years to come," Carter said. "However, it feels a bit more constrained than it needs to be, and is in dire need of updates or DLC to keep it going long term."
Super Mario Maker launches worldwide next week.