Critical Consensus: Rayman Legends
Ubisoft's formerly Wii U-exclusive platformer draws rave reviews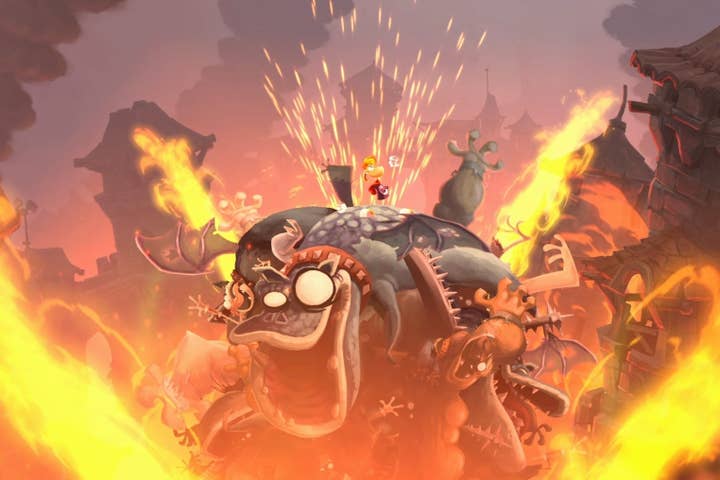 Rayman Legends is finally out, and it looks like Ubisoft has delivered just the sort of exclusive launch title the Wii U needed, albeit a year late and not at all exclusive. Although it was originally planned to showcase Nintendo's newest console at launch alongside ZombiU, Rayman Legends was delayed from the system's late 2012 launch to early 2013, and then again to September when Ubisoft decided to make it a multiplatform game after all. With the launch set for later this week, Ubisoft's press embargo on reviews lifted today, and the assembled media wasted no time in lavishing the game with praise.
Eurogamer's Dan Whitehead led the cheering section, giving the game a perfect 10 out of 10 score, calling it "one of the greatest platform games of this - or any - year." Whitehead was impressed by the way the game relies on the basic language shared by so many platformers (run, jump, glide, swim), but does so with a distinctive Rayman flair.
"Not only does every level feel like it has been agonised over, honed and polished, but you can't imagine them working with any other platform hero," Whitehead said.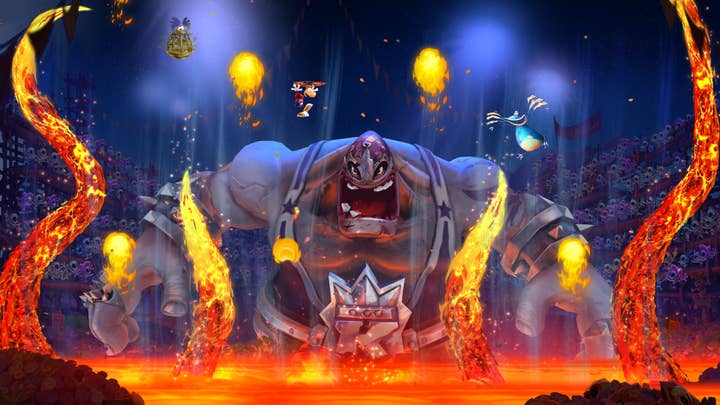 The game's biggest sticking point for Whitehead appeared to be the difficulty. While he stressed that his frustration was not with the game or the controls but with his own abilities, Whitehead warned potential players that they will almost certainly fail with great frequency.
"Once the game really gets going in the second world, the gloves come off and Ubisoft Montpellier's brilliant, sometimes brutal designs really start to shine."

Polygon's Danielle Riendeau
One such problematic part of the game comes in the way features originally designed for the Wii U GamePad touchscreen were adapted for use on standard console controllers. On the GamePad, a second player can use the touch screen to control the sidekick Murfy, swiping platforms into place, or manipulating various levers and mechanisms in the game.
"When played on a joypad, however, Murfy automatically moves to the nearest obstacle he can interact with and awaits your button press," Whitehead said. "As the game's difficulty rises exponentially, the finger juggling required to pull this off becomes too much, and you may find that the levels where Murfy swoops into view are the ones you enjoy least."
Polygon's Danielle Riendeau offered as close to a dissenting take on the game as could be found in the initial batch of reviews. Her 8.5 out of 10 was the lowest score the game received out of the gate, with the game's difficulty also singled out for criticism.
"A staggering work of platforming genius."

IGN's Jose Otero
"The fun stays consistent for as long as the challenge level is consistent, or at least fair," Riendeau wrote. "Once the game really gets going in the second world, the gloves come off and Ubisoft Montpellier's brilliant, sometimes brutal designs really start to shine."
Riendeau pointed specifically to the game's "invaded" levels, "maddeningly difficult" remixed stages that are unlocked by beating the original levels.
"I died dozens of times on some of these courses, and some were so frustrating that I simply got bored," Riendeau said. "After restarting 25 times because I hit, say, an errant fireball inches from the end, I wasn't having fun anymore."
IGN's Jose Otero gave Rayman Legends a 9.5 out of 10, calling it "a staggering work of platforming genius," saying the most remarkable part of the game was its ability to introduce new concepts to the player throughout the entire game (which he pegged as a 12-hour experience).
"Rayman Legends is a delightful platformer, and one of the best I've ever played," Otero said. "Thanks to clever level design that toys with genre conventions, it gets incredible mileage out of four basic moves. And with great local co-op and dozens of unlockables - including stages from Rayman Origins, special character skins, and mini-games - there's a lot to do."
Otero also acknowledged the difficulty his colleagues found, but said it was smoothly balanced such that the game is perfect for playing with beginners and experienced hands alike.
He also weighed in on the control differences between the Wii U and Xbox 360/PS3 versions, but unlike Whitehead, he found the touch-screen controls inferior when playing through the game alone. On the Wii U, when the touch screen comes into play, there's a minigame where players must safely guide an AI-controlled sidekick through maze-like stages by providing him a safe path through.
"Rayman Legends is a nifty platformer that exudes unabashed delight."

GameSpot's Tom Mc Shea
"It's a good idea that's a lot of fun in co-op, requiring careful teamwork and coordination, but in single-player it's the most frustrating part of Rayman Legends," Otero said. "Simply put, they transform it from a great platformer into a frustrating escort mission."
Like his fellow critics, GameSpot's Tom Mc Shea was taken with virtually every facet of the game. "Fueled by smooth platforming, striking visuals, wacky situations, and infectious beats, Rayman Legends is a nifty platformer that exudes unabashed delight," Mc Shea said. Although he acknowledged the game is "unabashedly weird," its penchant for strangeness never takes away from the total package's enjoyment.
Rayman Legends' audio component was also a commonly praised part of the game among the early reviews. Multiple critics hailed the combination rhythm game/platforming sections with Rayman triggering notes to familiar songs as he races through levels at full-tilt speeds, with three of the four quoted above specifically name-checking the game's treatment of Black Betty.
Rayman Legends launches August 30 in Europe, with a North American debut following on September 3.