Critical Consensus: Call of Duty: Black Ops
A round up of who's saying what about Treyarch's latest
The release of any Call of Duty title is huge business, and with Black Ops Activision has been supported by an incredible number of PR mechanisms and midnight openings. For all of the weight of that hype machine, however, critical reception remains paramount for a game even of CoD's historical pedigree.
So far, reviews have been almost wholly positive, with some wavering as to whether Treyarch's first post-Infinity Ward meltdown title is a Modern Warfare beater or not. Here, we take a look at some of the comments from the most influential opinion formers online, both from specialist and mainstream press, to see how their thoughts pan out.
We'll begin with the perennial presence in all of these round-ups, from our sister site Eurogamer. There, editor Tom Bramwell takes on the review personally, praising the scope and spectacle of the "slick and spectacular" Black Ops whilst arguing that perhaps it could have done a little more in terms of the innovation which the series has become famous for.
"We may be deep behind enemy lines, but the scriptwriters do their best to leave no cliché behind as we leap from moving trucks to speeding trains, float down jungle rivers listening to the Stones and stealthily infiltrate mountainside communication outposts," writes Bramwell.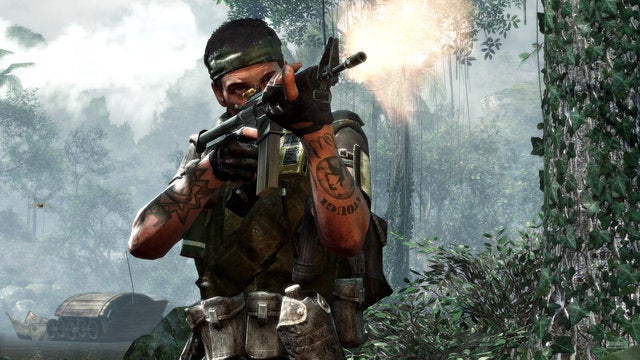 As he settles on an 8/10 for his score, Eurogamer's editor makes clear that Black Ops is a polished, well presented and enjoyable game, but falls short on new ideas for a somewhat rigid genre.
"Call of Duty has long since settled into an enormously successful rhythm, and the good news for Activision is that Black Ops does little to disrupt it. The campaign is relentlessly aggressive and spectacular – a Jerry Bruckheimer tribute act stuck in permanent encore – while the multiplayer modes are a mixture of smart tweaks to working formulas.
"The results are never less than entertaining whatever you choose to do, then, but not exactly brave and bold either. Say what you like about No Russian - at least it was something different."
At GameInformer, Adam Biessener seems inclined to agree with Eurogamer's judgement of polish over pioneering, calling Black Ops "the best game Treyarch has made" but also saying that it feels more like "Modern Warfare 2.5" than a standalone game in its own right.
Biessener seems uncomfortable with Black Ops interpretation of what makes a game 'mature', however, and questions the necessity of the levels of violence involved.
"The campaign puts players neck deep in the close-up brutality of combat. Limbs shatter disgustingly as bullets rip apart flesh and bone. Gore flies in all directions as combatants are popped like meat balloons by the vicious weaponry of the '60s. In one uncomfortable sequence, the player has to torture a restrained prisoner. This is an emphatically mature game (in the ESRB sense, anyway).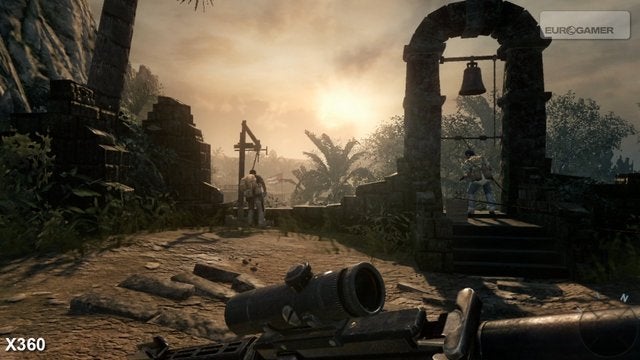 "Call me a wuss if you want, but the realistic gore is distasteful in the absence of a discussion of what should be a careful decision to employ lethal force. I realise that Treyarch isn't trying to put on a morality play here, but Black Ops pushes the lines of good taste."
GamePro's review, by Tae K Kim, focuses more on the multiplayer aspect of Black Ops, addressing the many tweaks and changes which Treyarch has made to Modern Warfare 2's exceptionally successful take. Kim seems taken with most of these changes, claiming that "it's obvious that they set out to make this instalment the definitive online Call of Duty experience."
"The new Wager Matches are an interesting twist as well, letting you bet credits against your own performance; rank in the top three and you earn credits, rank anywhere else and you lose credits," writes Kim.
"These matches will no doubt be dominated by high level players the way poker games are usually dominated by card sharks, but even amateur gamblers can have fun thanks to the three tiers of betting."
Kim makes a good point in his review about the very nature of Call of Duty, and the fact that, as polished as the single-player campaign may be, it's the online which will sell it to most people – multiplayer which proves hard to assess fairly under the conditions of a review event.
"I played the game under ideal circumstances, so it'll be interesting to not only see how the community reacts to the game, but how I'll feel about it after investing multiple hours into the multiplayer," Kim posits, before awarding full marks.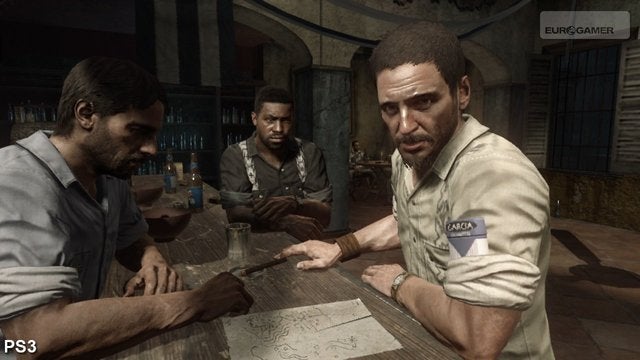 "There are valid questions I just can't answer at this point, such as will gamers embrace the currency system or reject it, and what sorts of idiotic and game breaking behaviour will the community come up with - snipers camping Domination maps to get nukes in MW2 ruined many a match for me, for example. "
Interestingly, it's the mainstream press who's approbation has proven some of the most voluble, with both the Guardian and Telegraph giving Black Ops top honours. The Telegraph's Nick Cowen calls it "the gold standard for this franchise", and says it will "silence any naysayers and beat off any competition" – concluding with the contention that "It is even, dare we say it, better than Modern Warfare 2."
Keith Stewart at the Guardian says that "operating within the constraints of the series, Black Ops is a master work", but points out that, perhaps, there needs to be an injection of new ideas in the next instalment if the needs of the series' huge audience are to be met.
"As CoD players we have travelled the world, killing people, following orders, hunting down madmen ... many of us have had enough," concludes Stewart.
"Call of Duty should go out on a high, or at least come back totally re-invented. Perhaps that's what we'll get with Modern Warfare 3. But for now, and for the next two-years of multiplayer engagement, revel in this game's mastery of its well-trodden domain. "
More reviews of Call of Duty: Black Ops are available at 1-Up, Videogamer, IGN and Giant Bomb.