Creative England launches £1m GamesLab fund
Offering support and grants to the industry in the South West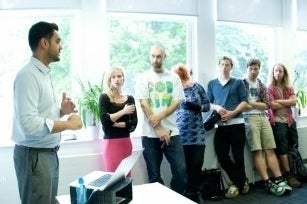 Applications open today for the new Creative England GamesLab programme, which offers funding, workshops and business expertise to games companies in the South West.
"The UK video game industry is already at the forefront of both technical and creative excellence with British studios creating some of the most popular video games titles in the world," said Creative England's head of games and digital media, Jaspal Sohal
"Creative England GamesLab will help the next generation of games developers take advantage of this growing market and support them in reaching their commercial and creative potential."
The £1 million initiative is funded by the European Regional Development Fund and supported by the Government's Regional Growth Fund. Application information can be found at the official site.
Two rounds of funding will take place, the first offering grants between between £10,000 and £50,000 to "completely develop a new Game IP for commercial release." Round 2, starting in Q2 2014, is aimed at start-ups looking to build their first prototype.
"TIGA welcomes Creative England GamesLab as an imaginative initiative which will provide a valuable boost for the UK's South West games developers," added TIGA's Dr Richard Wilson.
"Access to funding is an issue for many small businesses, but is particularly keenly felt in Britain's high-tech industries.What is especially encouraging about this investment programme are the workshops and business expertise that come as part of the supporting package, this is essential for creating sustainable growth. We look forward to working further with Creative England for the benefit of our members and the whole industry."