Crash Team Racing was the UK's best-selling game in August
But Nintendo dominates the month in terms of unit sales, revenues and top-selling titles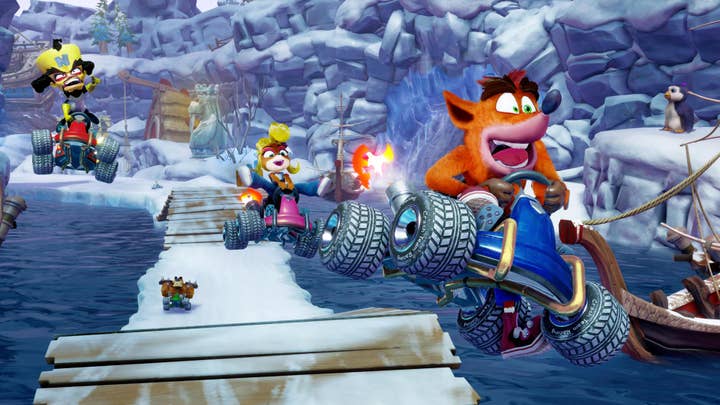 Activision Blizzard triumphed in the UK last month with Crash Team Racing outperfoming every other title at retail.
The revamped kart racer's success was highlighted in the monthly retail charts compiled by UKIE, which shows the title sold 17% more units than the next biggest selling game, Super Mario Maker 2.
The PlayStation 4 version led the way, accounting for 61% of all copies sold. Crash Team Racing was also No.1 in two out of the five weekly charts for the month.
Nintendo was the top-selling publisher of the month, shifting more than double the units of the next highest, Warner Bros Interactive, and generating almost four times the revenue of Activision Blizzard, which was second in terms of sales value.
In fact, Nintendo accounted for 22.6% of all boxed games sold, and 32.2% of all revenue generated. Half of the ten best-selling games were developed and published by the platform holder.
However, in terms of unit sales, more PlayStation 4 games were sold than those of any other platform, with Nintendo Switch a distant second. Nintendo's console trumped Sony's in terms of sales revenues.
Overall software units sales for the month were down 13% from July, and down 16% when compared to August 2018.
Here's a list of the best-selling games for each platform:
PlayStation 4 - Crash Team Racing: Nitro-Fueled (Activision Blizzard)
Xbox One - Forza Horizon 4 (Microsoft)
Nintendo Switch - Super Mario Maker 2 (Nintendo)
PC - Battlefield V (Electronic Arts)
And here's the Top 10 best-selling games for August 2019:
Crash Team Racing: Nitro-Fueled (Activision Blizzard)
Super Mario Maker 2 (Nintendo)
Mario Kart 8 Deluxe (Nintendo)
FIFA 19 (Electronic Arts)
Grand Theft Auto V (Rockstar Games)
Fire Emblem Three Houses (Nintendo)
Minecraft: Switch Edition (Nintendo)
Red Dead Redemption 2 (Rockstar Games)
F1 2019 (Codemasters)
Super Smash Bros Ultimate (Nintendo)