Cowen & Co. analysis sees CoD pre-orders well down, YoY
CoD:AW to sell 70% less than BO2, 40% less than Ghosts, series has peaked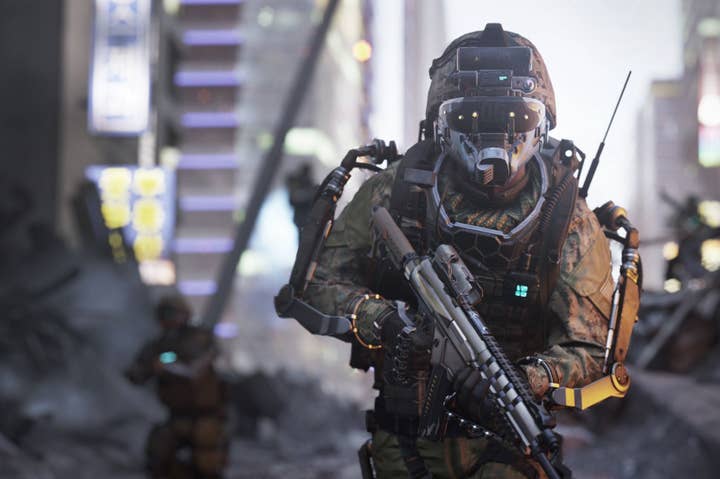 Pre-order sales analysis by Cowen and Company released today suggests that the sales decline for the Call of Duty series will continue this year, with the forthcoming Advanced Warfare expected to sell 40 per cent less than last year's Ghosts and 70 per cent less than Black Ops 2 from 2012.
Extrapolating from Amazon pre-order figures, the research suggests that, despite Advanced Warfare looking like a better game, it will fall well short of previous titles. Cowen and Company also speculates that this would indicate that the franchise has its best days behind it.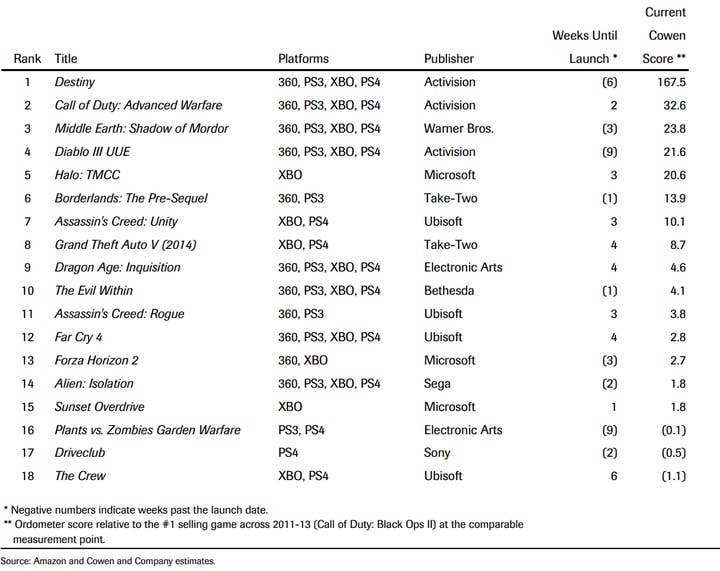 "Advanced Warfare is now pacing almost 40 per cent behind last year's Ghosts (vs. 50 per cent last week) and almost 70 per cent behind 2012's Black Ops 2 (vs. 80 per cent last week)," the research notes explain. "We continue to believe CoD will be down meaningfully vs. last year. With the franchise facing two consecutive significant year on year declines in sales, we think it is prudent to assume it has peaked."
Nonetheless, when discussing a behemoth such as Call of Duty, it's important to bear in mind the size of the numbers involved. The game is still expected to outsell Destiny - the most pre-ordered new IP of all time.
"Activision's Destiny continues to track well post-launch, with the game's Amazon rankings actually up vs. two weeks ago," the paper reads. "We think sales are likely to slowdown over the next weeks as a spate of new games hit the market, but we would not be surprised to see a reacceleration in December once the first DLC The Dark Below is released. We continue to expect first year (12-month) unit sales of 12-13MM units. While we now think it is less likely that Destiny will outsell Call of Duty: Advanced Warfare, if Destiny enjoys stronger legs and reaches 15MM+ units, we believe it could still happen (due in part to our concerns about CoD)."
Elsewhere in the analysis, Cowen and Co. addresses the idea that pre-orders are no longer such important indicators of long-term sales - a perspective that Activision itself has publicly reiterated.
"Given that we have seen the most pre-ordered IP of all time launched this year - not once, but twice! (Watchdogs and Destiny) - we have a hard time buying thisargument. What we think is happening is that (1) preorders for Call of Duty are down (2) Call of Duty is normally a significant percentage of overall preorders and thus (3) interested parties are concluding that preorders are secularly declining relative to overall sales, e.g. that the problem is with preorders rather than with Call of Duty.
"This aligns with what Activision and GameStop both would like to believe - Activision because it gives an alternative explanation for slow preorders, and GameStop because it ignores the elephant in the room that a significant portion of sales are digital, which they aren't seeing the preorders for. We believe that preorders remain by far the best leading indicator of a title's likely ultimate sales."