Conan O'Brien charges for Clueless Gamer reviews
Red Barrels confirms $35,000 fee to have Outlast featured on segment; show says disclosure unnecessary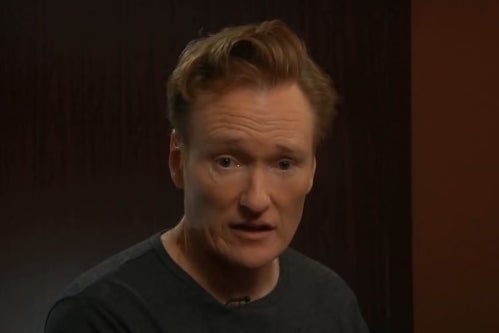 YouTube content creators aren't the only people selling game coverage. Re/Code reports that some of the games featured on Conan O'Brien's Clueless Gamer segments paid to be there.
A Red Barrels spokesperson confirmed the studio spent $35,000 to have its debut game Outlast featured in a Clueless Gamer PC horror game roundup last year. Developers behind the other two games in the segment--Slender: The Eight Pages and Amnesia: The Dark Descent--denied paying anything for their placement. Mojang, whose hit Minecraft was another featured Clueless Gamer title, also denied paying money for the spot. Of the aforementioned games, only Outlast received an enthusiastically positive review, with O'Brien saying he loved the game.
According to one unnamed source, roughly a quarter of the titles included on the Clueless Gamer segments paid for their appearance. Those deals aren't disclosed to viewers, but representatives for the show said they don't need to be.
"These Clueless Gamer segments are not serious reviews nor endorsements - they are strictly comedic sketches," the representative said, adding, "We do not believe sponsorship identification is needed."
The representative went on to point out that the premise of the Clueless Gamer segment is that O'Brien has no qualifications to review games in the first place.