Codemasters, Sega, Team17, Frontier and more to speak at GamesIndustry.biz Live: Investment Summit
Two days of talks revealed for next week's event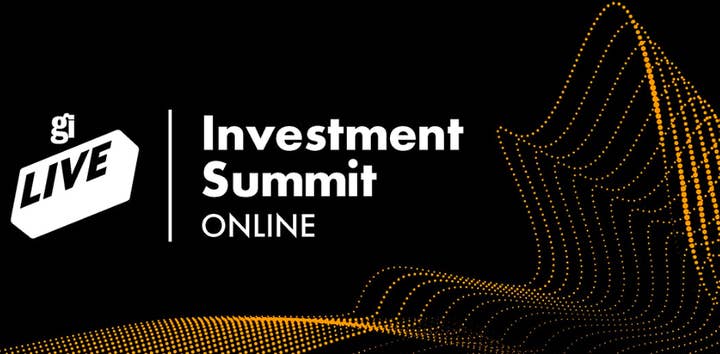 The GamesIndustry.biz Live: Investment Summit is less than a week away, and here is the (near) final line-up of speakers.
Speakers include industry veterans Frank Sagnier (Codemasters), Alex Peters (Sega), Shahid Ahmed, Emily Greer (Double Loop), Guha Bala (Velan Ventures), Jason Della Rocca (Execution Labs) and many more. You can see the current list below.
Taking place on Wednesday, September 9th - Thursday, September 10th, the Investment Summit can be viewed over YouTube, and access to the talks are completely free.
Alongside the talks, more than 150 investors and publishers will be meeting with indie developers over the course of the event in 30-minute meetings. If you're interested in taking part in these meetings, which can take place over the full two-day period, tickets are just £10 + VAT. That £10 also includes access to our intimate roundtable sessions with legal experts Sheridans and Valve, who will be answering questions from developers. To take part in these meetings, once you've bought a ticket, please email us to book your spot.
The event is made possible thanks to our sponsors Xsolla, Renaissance PR and Sony PlayStation.
Publishers and investors signed up to meet developers at the event include: 101XP, 11Bit Software, 505 Games, Accelerate Games, Amplifier Game Invest, Animal Kingdom, Another Indie, Aream & Co, Asmodee, Armor Games, Bandai Namco, Behaviour Interactive, Bethesda Softworks, BITKRAFT Ventures, Buzz Capital, Carry 1st, Comico Games, Creative England, Credit Suisse, Digital Extremes, Dune Ventures, Electronic Arts, Exient Publishing, Fellow Traveller, Galaxy Interactive, Gamesco London, Gamigo, Gearbox Publishing, Global Top Round, Graffiti Games, Guda Investments, Hatinh Interactive, HSBC, Humble Bundle, The Irregular Corporation, The Iterative Collective, Jagex, Kabam, Kickstarter, Konami, Kowloon Nights, LEGO Ventures, London Venture Partners, Lucky Bus, Mail.ru Games Ventures, Makers Fund, Marvelous Europe, Merge Games, META Publishing, Microsoft ID@Xbox, Miniclip, MRGV, Neowiz, Netmarble, Oculus, Origin VP, Plantago Capital, Private Division, Quantum Astrophysicists Guild, Raiser Games, Remote Control, Seahorn Capital, Sega, Skystone Games, Snail Games USA, Sold Out, Sony PlayStation, Super.com, Symvan Capital, Team17, Tencent Those Awesome Guys, tinyBuild, Transcend Fund, Triple Dragon, Tripwire Interactive, Ubisoft, Valve, Velo Partners, Wired Productions, Wings, Xsolla and Yacht Club Games.
Here is the speaker line-up:
Wednesday 9th September
10am (UK), 5am (ET), 2am (PT): Welcome + Getting Your Business In Pole Position - Frank Sagnier (Codemasters), Chris Dring (GamesIndustry.biz)
Codemasters CEO Frank Sagnier discusses the company's acquisition strategy, its investment in esports and how to make licenses work
11am (UK, 6am (ET), 3am (PT): SEGA Searchlight and Two Point Studios - Alex Peters (SEGA)
Sega details its indie initiative Searchlight and its partnership with and acquisition of the Two Point Hospital developer
12pm (UK), 7am (ET), 4am (PT) Failing with Style - Shahid Ahmad, Indie developer
Indie games veteran and former PlayStation exec talks about his recent efforts to build an indie studio, and what went wrong
1pm (UK), 8am (ET), 5am (PT): Panel: Don't Do This! Worst practice for pitching - Host: Matt Handrahan (GamesIndustry.biz), Troy Horton (Team17), Ella Romanos (Fundamentally Games), Des Gayle (Fellow Traveller), Zac Antonaci (Frontier)
Advice from games publishers and experts on what not to do when pitching your company and game
2pm (UK), 9am (ET), 6am (PT): Planning for Downstream: How a Livestream Strategy Can Help to Secure Investment - Natalie Griffiths (Unit 2 Games)
Securing, and then reassuring, any good investor is all about building confidence. What better way to demonstrate the potential of what you're creating than getting it in the hands of the players, even before it's released? Using examples from Unit 2 Games' Google Stadia exclusive Crayta, and other titles, Natalie Griffith will reveal the key principles of how an effective live-streaming strategy can underpin corporate profile raising in the eyes of investors
2:45pm (UK), 9:45am (ET), 6:45am (PT): How PR can help you secure investment - Stefano Petrullo (Renaissance PR)
PR veteran Stefano Petrullo discusses the media landscape in 2021, and the advantages to getting coverage before you seek finance
3:15pm (UK), 10:15am (ET), 7:15am (PT): GamesIndustry.Quiz - James Batchelor (GamesIndustry.biz)
A quick fire, casual quiz to round-off the first day
4pm (UK), 11am (ET), 8am (PT): Sheridans roundtable (Pre-register)
A pre-registered only session featuring legal experts Sheridans. Dev Ticket Holders Only. Contact Jamie.Sefton@gamesindustry.biz.
5pm (UK), 12pm (ET), 9am (PT): Valve roundtable (Pre-register)
A pre-registered only session with Valve on how to make the most out of your Steam store page. Dev Ticket Holders Only. Contact Jamie.Sefton@gamesindustry.biz.
Thursday 10th September
5pm (UK), 12pm (ET), 9am (PT): Welcome + TBC Talk
6pm (UK), 1pm (ET), 10am (PT): Your game is funded... what happens next?
The team behind PAX Dev curates a special panel on what happens after you've secured your finance
7pm (UK), 2pm (ET), 11am (PT): Fireside Chat with Industry Legend Emily Greer - Emily Greer (Double Loop), James Batchelor (GamesIndustry.biz)
The Kongregate co-founder talks about working with indie studios, and now setting up her own in Double Loop Games, which has secured $2.5 million in funding
8pm (UK), 3pm (ET), 12pm (PT): How The New Consoles Will Change Investment - Host: Rebekah Valentine (GI.biz), Audrey Leprince (WINGS), Jason Della Rocca (E, Guha Bala (Velan Ventures), Lindsey Rostal (Kowloon Nights)
PS5 and Xbox Series X launch in a matter of weeks, but what does that mean for indie developers seeking funding? We ask our panel of experts
9pm (UK), 4pm (ET), 1pm (PT): Presented by Xsolla: A Fireside Chat with BITKRAFT Ventures - Chris Hewish (Xsolla), Moritz Baier-Lentz (BITKRAFT Ventures)
Two leaders in games finance and investment get together to discuss the current state and future of video games investment for small to mid-sized studios
9:30pm (UK), 4:30PM (ET), 1:30pm (PT): Panel: TBC
10pm (UK), 5pm (ET), 2pm (PT) - Late: Games Industry Gathering: Investment Summit Special
A special Investment Summit version of the world famous Gathering, a casual networking opportunities using Zoom.
During our last Summit, more than 1,000 industry professionals signed up, from 198 investors and publishers and over 500 independent game studios.
Tickets for the meeting system are £10 for investors, publishers and developers. A small number of $150 tickets are also available for service providers looking to meet with publishers and studios. If you're interested in supporting this year's event as a sponsor, contact Charlotte.Nangle@gamesindustry.biz.
The Investment Summit is part of our GI Live series of events, which has already featured State of Games and Changing Channels, and will conclude with the UK Best Places To Work Awards on September 18th.