Check out the full GamesIndustry.biz Investment Summit PAX East schedule
Meeting request deadline is this Friday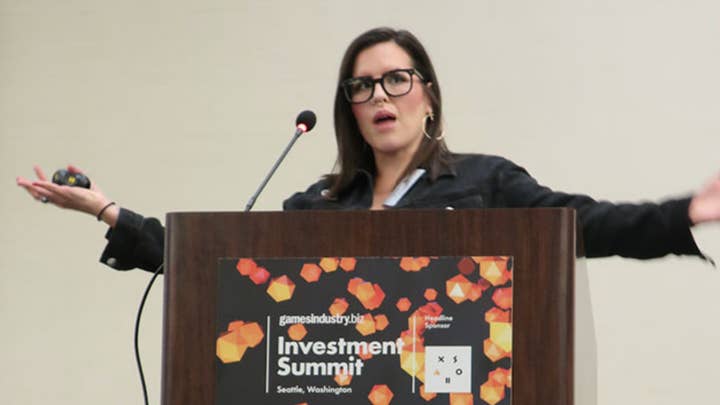 The GamesIndustry.biz Investment Summit returns to Boston this month and the full speaker line-up has been revealed.
The event is designed to help studios get their games funded, and will take place alongside PAX East at the Aloft Hotel on Thursday, February 27th.
Anya Combs from Kickstarter will be presenting crowd-funding case studies at the event. Aaron Davies from Oculus will be discussing working with the VR firm. Alex Nichiporchik from TinyBuild will deliver a talk entitled 'Indie Publishing Is Dead - a talk by an indie publisher'. While David Daniels of Xsolla will also be returning to the show.
Our big session of the day is a special Fireside chat between PlayStation legend Shuhei Yoshida and indie devs Robin Hunicke (Funomena), Barry Meade (Fireproof Games) and Kris Piotrowski (Capy Games), where they'll discuss the creative process and industry trends.
And then there is our own games investment panel. Hosted by GamesIndustry.biz writer Rebekah Valentine, the panel will discuss a variety of investment topics and will feature Guha Bala from Velan Ventures, Anya Combs of Kickstarter and David Kaye from Snapshot Games.
After the talks, attendees will be invited to a networking lunch. And then in the afternoon, pre-arranged one-to-one meetings will take place between developers, publishers and investors. Ticket holders looking to get meetings, please fill in your meeting request forms by this Friday (February 14th). Forms returned or tickets purchased after this date will not be eligible for pre-arranged meetings, although we will try to facilitate introductions on the day.
Over 25 investors and publishers will be taking meetings, and more than 100 developers are already set to attend. Today, we can announce that GameSeer and Digital Extremes have joined our line-up of attending companies. The duo join Sony PlayStation, Amazon Business Development, Oculus, Ubisoft, Sega, Team17, Wired Productions, Sold Out, Animal Kingdom, The Irregular Corporation, Humble Bundle, Kowloon Nights, Gearbox, tinyBuild, Merge Games, Xsolla, Super.com, Hypetrain Digital, Neowiz, Graffiti Games and Snail Games USA.
Developer tickets to the event are on sale right now through here for $200, and includes a two-day pass to PAX East (Thursday and Friday). If you are a PAX East exhibitor, you are eligible for a free pass. To receive one, contact us through here.<
For publishers and investors looking to meet with developers, we have four tables remaining. To book one, contact Jamie.Sefton@gamesindustry.biz.
Here is the full schedule for the Investment Summit:
09:30 - 10:00: Registration
10:00 - 10:05: Introduction

10:05 - 10:25: Aaron Davies, Oculus

10:25 - 10:45: Anya Combs, Kickstarter

10:45 - 11:20: Indie Games Fireside Chat w/ PlayStation's Shuhei Yoshida plus Robin Hunicke (Funomena), Barry Meade (Fireproof Games) and Kris Piotrowski (Capy Games)
11:20 - 11:45: Break
11:45 - 12.00: Alex Nichiporchik, tinyBuild

12.00 - 12:10: David Daniels, Xsolla

12:10 - 12:45: The Games Investment Panel hosted by Rebekah Valentine with David Kaye (Snapshot Games), Guha Bala (Velan Ventures), Anya Combs (Kickstarter) and more TBC
12:45 - 13:45: Networking Lunch
13:45 - 18:15: Formal Pre-arranged Meetings between Investors/Publishers and Developers
For more on the Investment Summit, check out our microsite. The Summit will also be returning to Seattle in August and London in September.