Check out the UK Best Places To Work Awards schedule
Podcasts, articles, videos and a ceremony are all set to take place next week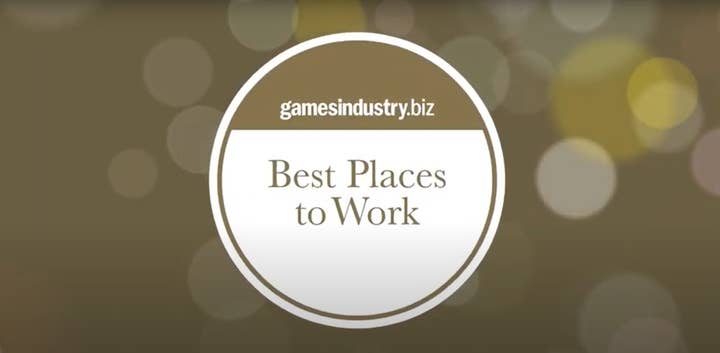 The UK GamesIndustry.biz Best Places To Work Awards returns next week, with a series of free digital talks and podcasts, alongside the ceremony itself.
It all begins on Monday, September 13th with an in-depth discussion on inclusivity and diversity in the workplace, featuring G Into Gaming.
It continues on Tuesday with a session on the environment and climate change, and the role UK games companies can play in this area.
Wednesday features a conversation with studios on looking after the mental health of their employees, while Thursday we have an interview with last year's Best Boss winner -- Creative Assembly head Gareth Edmondson.
And then finally, at 4pm on Thursday, September 16th, we will reveal the UK winners at a special online ceremony.
All sessions will be available to watch on YouTube or download as podcasts. We will also publish write-ups of all the sessions, starting from Friday, September 17th.
The Best Places To Work Awards was set-up to help make the games industry a better place to work. Regular features, podcasts and videos on the subject are published all year round.
Here is the schedule in full. All times are in UK BST.
Monday, September 13th
2pm: We're not talking about diversity.... We're talking about our future
Speakers:
Emma Smith, Creative Assembly
Philip Mayes, Mighty Kingdom
Rina G Lynch, Voice at the Table
Host: Liz Prince, Amiqus
A panel on the importance and influence of leadership on culture and diversity. The session will provide some actionable steps that leadership can take to accelerate their EDI journeys
The panel is also available as a podcast. You can find The GamesIndustry.biz Podcast on the podcasting platform of your choice, or download this episode directly here.
Tuesday, September 14th
2pm: Climate Change: How The Games Industry Can Fight Back
Speakers:
Deborah Mensah-Bonsu, Playing For The Planet
Jane Campbell, ustwo games
Michael French, Games London
Miles Jacobson, Sports Interactive
Host: Christopher Dring, GamesIndustry.biz
Sports Interactive, ustwo games, Games London and the UN's Playing for the Planet come together to discuss what they're doing, and what others could do, to help combat climate change.
Wednesday, September 15th
2pm: Mental health in the games industry: The on-going journey
Speakers:
Heidi Slee, Third Kind Games
Sarah Howell, Creative Assembly
Sarah Sorrell, Sage In Our World
Host: Christopher Dring, GamesIndustry.biz
GamesIndustry.biz talks with Safe In Our World, Third Kind Games and Creative Assembly about best practices in looking after the mental health of your staff
Thursday, September 16th
2pm: Meet The Best Boss: Fireside Chat with Gareth Edmondson, Creative Assembly
The winner of the 2020 Best Boss Award speaks to GamesIndustry.biz about taking over a team during a pandemic, and the things he's learned about being a good manager.
4pm: The 2021 UK GamesIndustry.biz Best Places To Work Awards
We reveal the best places to work in the UK games industry, alongside our special award winners and the G Into Gaming winner.
The 2021 Best Places To Work Awards for the UK are sponsored by Amiqus, Games London, Hutch and Playground Games. The awards are judged by a combination of employee feedback and employer information, for more details click here.
Our next Best Places To Work Awards event is set for Canada this November, for more details on how to take part in that event, check out our website here.
Interested in sponsoring future Best Places To Work Awards events? Contact Chris.Buckley@gamesindustry.biz.