Channel 4's Topping joins Xbox's Soho Productions
"I'm looking forward to being part of the team building amazing TV content experiences"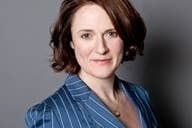 Jen Topping is the new business manager for EMEA TV for Soho productions, a role that will see her apply her video on demand experience to producing new content for the Xbox platform.
"I've had a great time at Channel 4 working across lots of different projects, and have learned a huge amount about how technology is changing the way audiences watch and engage with TV programmes," she said.
"This is such an exciting time to be joining Microsoft with the launch of Xbox One as the new generation all-in-one home entertainment system. I'm looking forward to being part of the team building amazing TV content experiences for Xbox's millions of users."
Topping was formerly the business manager for Channel 4 Online. She joined the company in 2006, working her way up from an online video operations manager and working on 4oD, online TV programme support and Fuel4. She's also the incoming vice chair of the British Interactive Media Association.
She'll report to studio manager Brian Stone and joins former Channel 5 head of digital channels Kate Barnes, who joined the company in February .
Soho Productions was founded in 2008 and describes itself as "the biggest Microsoft Studio you never knew existed."