CES: Games debut on Sifteo Cubes
1.5 inch computers coming to market backed by $10m funding
San Francisco's Sifteo has unveiled its new gaming gadget at CES in Las Vegas, aiming to combine tactile play with simple videogame technology.
Sifteo Cubes are 1.5 inch computers with full-colour screens that are motion sensitive and react to other cubes using WiFi.
A video of the Cubes in action highlights a few play possibilities with puzzle, educational and adventure games looking suitably cute and tangible.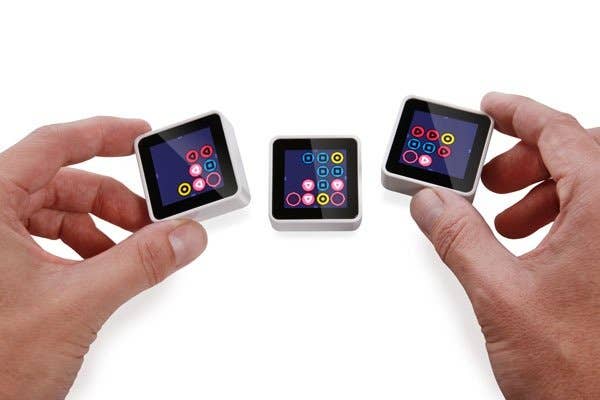 Sifteo co-founders David Merrill and Jevan Kalanithi created prototype cubes while studying at the MIT Media Lab, and believe the tactile element of playing has been lost with home videogames.
"Traditional game consoles have lost the tangible and interactive nature of classic tabletop games like Mahjong and dominoes, that bring people together," said Kalanithi. "Players tell us that Sifteo cubes reduce 'screen stare', banish tired thumbs and give families and individuals a more 'natural' way to have fun."
Players need to install Sifteo software on an internet-connected computer before buying games and apps from the company's own app store. The cubes sell in packs of three for $99 in an Early Access Program, although this will go up to $149 when on general release in the Autumn.
Interestingly, The Sims creator Will Wright and his Stupid Fun Club have visited the Sifteo HQ and spent some time discussing games - could we see a project from Will on the cubes?
It's early days for Sifteo - which last year raised $10 million funding to bring the Cubes to market - but with the thumbs up via a CES Innovations Award Honoree, and a place as one of the ten finalists in the Last Gadget Standing Competition, there's every chance we could see videogames spin-off successfully in another interesting direction come the end of 2011.