Celebrate 20 years of GamesIndustry.biz at our Brighton party
Join us for our 2002-themed event on Wednesday, July 13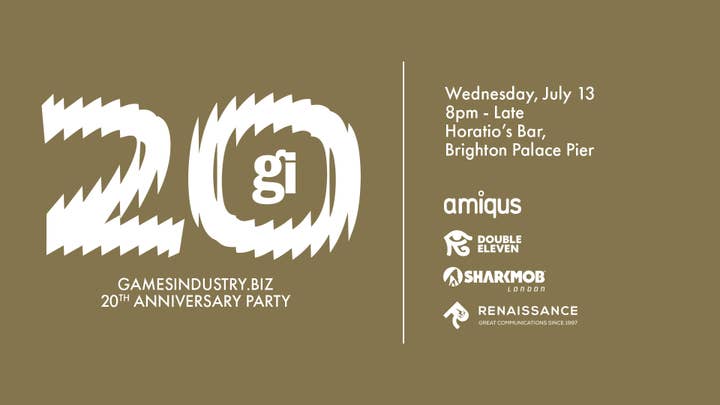 Today is 20 years of GamesIndustry.biz, and we will be marking the occasion all year with articles, nostalgic social posts and a lot of reminiscing.
But best of all? We're throwing a party. Taking place alongside Develop:Brighton on Wednesday, July 13, we are inviting the great and good of the games industry to join us at Heratio's on the Brighton Pier, to help us celebrate like it's 2002.
Starting at 8pm, tickets include access to the event, two drinks and some seaside nibbles. We will also have a retro games area, sponsored by Renaissance PR, where we can go hands on with some classic early 2000s video games for PS2, GameCube and Xbox.
The event is co-hosted by Amiqus, Double Eleven and Sharkmob. Tickets cost £20 and can be purchased right here.
Note: This is not the same event at Develop:Brighton or the Develop: Star Awards. So tickets to those two lovely events will not get you access to this one.
It's part of a big week for GamesIndustry.biz in Brighton, with our UK Best Places To Work Awards taking place on Tuesday, July 12. Also, look out for our 20 year session as part of the Develop:Brighton conference.
For more on the anniversary of GamesIndustry.biz, webite founder Rob Fahey recounts its beginnings.