Call of Duty: Modern Warfare dominates the EMEAA charts
Meanwhile, FIFA fends off new releases The Outer Worlds, MediEvil and WWE 2K20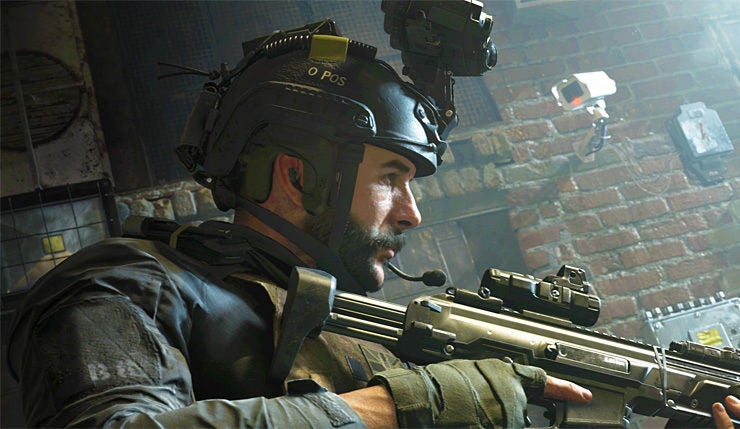 Despite only being on sale for two days, Call of Duty: Modern Warfare has stormed to the top of the EMEAA charts in terms of both digital and retail sales.
Naturally, that also makes it the best-selling game of the week in the combined charts for the region, which encompasses 43 countries.
Activision's latest blockbuster fended off competition from a variety of new releases, as did EA's FIFA 20, which dropped no lower than No.2 in the retail and combined charts, and still managed to secure a No.4 in the download rankings.
FIFA was denied the digital No.2 spot by the ongoing success of Tom Clancy's Rainbow Six Siege (up 16 places to No.2) and Grand Theft Auto V (a non-mover at No.3). Rainbow Six appears much higher in the digital charts than it does in either retail or combined, suggesting downloads are the biggest source of sales at the moment.
The PS4 remake of Medieval was the next biggest new launch overall, at No.3 in the combined and retail charts, and No.5 in download.
Next came WWE 2K20 at No.4 in the combined charts, also outselling Obsidian's acclaimed The Outer Worlds in the digital charts.
Interestingly, the sci-fi RPG beat the wrestling title at retail, indicating digital sales for the latter may have been the clincher in the combined rankings. (It's worth noting the ISFE charts do not include Game Pass downloads, since these would not count as traditional sales).
Here are the best-selling games by units (combined digital and physical) in EMEAA for the week ending October 27, 2019:
| Last Week | This Week | Title |
| --- | --- | --- |
| New Entry | 1 | Call of Duty: Modern Warfare |
| 1 | 2 | FIFA 20 |
| New Entry | 3 | MediEvil |
| New Entry | 4 | WWE 2K20 |
| New Entry | 5 | The Outer Worlds |
| 3 | 6 | Grand Theft Auto V |
| 4 | 7 | Ring Fit Adventure |
| 68 | 8 | Farming Simulator 19 |
| 25 | 9 | Tom Clancy's Rainbow Six Siege |
| 6 | 10 | Tom Clancy's Ghost Recon Breakpoint |
Participating companies in the GSD charts (run by B2boost on behalf of ISFE) are Activision Blizzard, Bandai Namco, Capcom, Codemasters, EA, Focus Home Interactive, Koch Media, Microsoft, Milestone, Paradox, Sega, Sony, Square Enix, Ubisoft and Warner Bros.
Digital data includes games sold in Australia, Austria, Bahrain, Belgium, Bulgaria, Croatia, Cyprus, Czech Republic, Denmark, Finland, France, Germany, Great Britain, Greece, Hungary, Iceland, India, Ireland, Israel, Italy, Kuwait, Lebanon, Luxembourg, Malta, Netherlands, New Zealand, Norway, Oman, Poland, Portugal, Qatar, Romania, Russia, Saudi Arabia, Slovakia, Slovenia, South Africa, Spain, Sweden, Switzerland, Turkey, Ukraine and UAE.
Physical data includes all games, but only those sold in Belgium, Denmark, Finland, France, Great Britain, Italy, Netherlands, Norway, Poland, Portugal, Spain, Sweden and Switzerland.