Bungie raising money for Nepal
Offering gamers limited edition Destiny tshirt, shaders and emblem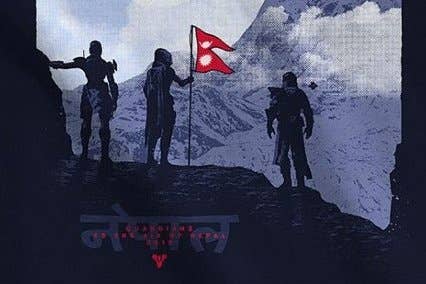 Bungie is the latest studio to start fund-raising for those affected by the devastating Earthquake in Nepal. It's offering gamers the chance to buy a limited edition tshirt and shader pack for Destiny with 100 per cent of profits promised to charities.
"On Saturday, April 25, a magnitude 7.8 earthquake devastated the country of Nepal, leaving thousands dead and tens of thousands homeless and in need of food, medical attention, and shelter. As one of Asia's poorest countries, it has little ability to fund relief efforts and long term reconstruction efforts on its own," said Bungie Foundation manager Christine Edwards.
"Nepal needs our help."
The tshirts will ship in June and are available to purchase here. The money will go to "recognized charities that have direct relief efforts in Nepal."
Yesterday Bungie tweeted that 1000 of the special edition shirts had already been sold. At $25 each that's already a significant contribution to the fund-raising total.
This week Far Cry 4's development team also pledged their support for Nepal, offering to match donations up to $100,000.