Bringing non-endemic brands to esports... and keeping them
At Esports BAR Miami, Christopher 'Monte Cristo' Mykles shared how brands can make their way into esports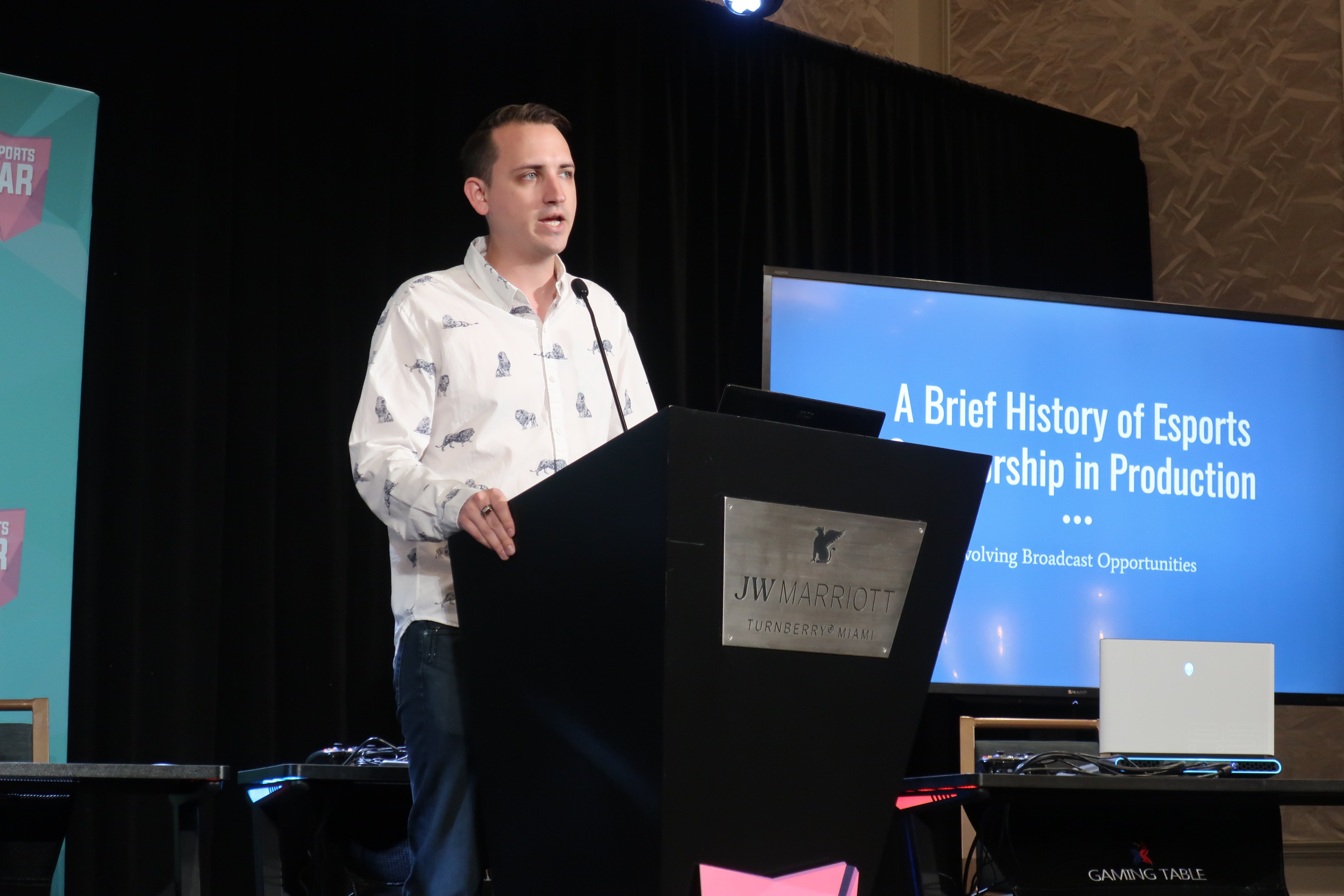 Overwatch League broadcaster Christopher 'MonteCristo' Mykles has been a part of the esports scene since well before brands got involved. And now that they're here, he wants to make sure they don't leave.
At Esports BAR Miami, Mykles took the stage to deliver an opening keynote directed at non-endemic brands and the esports franchises working with them, offering advice on how they can make their activations succeed. He began by highlighting ways successful non-endemics have made their way into popular esports leagues, a movement he's seen grow considerably over his 15 years in the industry.
Mykles showed clips of the Korean OnGameNet StarLeague, which broadcast StarCraft on TV throughout the 2000s. Because it was one of the earliest esports leagues to appear on TV with major production value behind it, it also was one of the first places non-endemic brands began to gain a foothold. For example, the 2010 Korean Air StarLeague finals included players making entrances out of planes, maintenance cranes, and the entire event taking place in an aircraft hangar.
"Anyone who knows the history of esports remembers this moment," Mykles said. "This is one of the most iconic sponsorships we've had in this space, and one that in terms of scale or spectacle really hasn't been eclipsed since. But it's something I think non-endemic brands should keep in mind, because I'm still here and still talking to you about this ten years later, and all the fans remember this moment as well."
What Korean Air did in 2010 is, he continued, is an effective use of one type of sponsorship opportunity: naming rights. Although tournament naming rights aren't done quite as often anymore, esports continues to learn from traditional sports by using segment naming rights, such as for half-time shows.
"Not enough brands take advantage of the fact that they can custom-create their own content as part of a broader partnership with a league"
Another naming rights example Mykles suggested that comes up frequently is that of awards, such as those given to a "player of the match." In some cases, that can be a recurring segment every tournament or match, or it can look more like the Overwatch League's MVP award, which is sponsored by T-Mobile and has made use of branded hashtags to get players to vote for their favorite player using the brand's name.
Some companies, for one reason or another, struggle to get into the broadcast space itself and have to do something else, like "shoulder content." Mykles' example here is Bud Light, which deals with restrictions on advertising to audiences under 21. To counter this, Bud Light made its own branded match commentary show on its own Twitch channel that uses Overwatch League broadcasters and takes place in the Overwatch League studio.
"Not enough brands take advantage of the fact that they can custom-create their own content as part of a broader partnership with a league," Mykles said. "At that point, you have more control over the tone of that content and how it aligns with your brand."
Bud Light is also an example of a non-endemic brand that has recently taken advantage of in-person content to promote itself as a part of a "fan experience" at an esports event. That's something Mykles thinks the scene is going to see more of in the coming years as the landscape around live events changes.
"Part of venue activations have been that they haven't been a really big part of esports simply because most esports broadcasts happen in small studios, and we only very occasionally have a stadium show as a final," he said. "Now as franchise leagues like Overwatch League are moving to a localized model and we have dozens of home stands next year with large venues, there will be a lot more opportunities for brands to do activations in-person, at their local markets."
Finally, Mykles talked about in-game promotions, such as a recent partnership between League of Legends and Louis Vuitton where the fashion line is creating in-game assets as well as a case for the Summer Cup trophy and a line of physical garments.
"Brands are used to coming to esports and thinking, 'Let's just go with what we know'"
"I think this is going to be fascinating," Mykles said. "We do not yet know what these skins or what the actual fashion line is going to look like, as it was just recently announced. It hits a lot of in-game stuff, but it will most likely hit the esports world as well, mostly because most skins in League of Legends with few exceptions are playable [in tournaments]. I assume we will see professional players in Louis Vuitton skins in the game."
In answer to a question later as to why a partnership between a MOBA and a high-end fashion line would be desirable, Mykles added this:
"I assume that the market research shows that this is going to be a very desirable brand for League of Legends, or that they're targeting a pretty wealthy consumer base that they think exists within esports that is going to buy this content. I don't know if this is the arrangement they made with Riot, but if I'm Louis Vuittion, I'd say, 'Okay, I'm going to design in-game fashion for you in exchange for a cut.' And I think that becomes very popular because anyone can buy a $10 skin that has excellent design. I think there are many different ways the Louis Vuitton thing can go."
Up to this point, Mykles had spoken only of sponsorship deals that already exist in the esports space as examples of ways non-endemic brands can find their way in. But he doesn't think that just following existing models is enough to keep these brands around and their partnerships successful.
"I think brands are used to coming to esports and thinking, 'Let's just go with what we know. Let's go with a model that's going to have the same opportunities.' That's very safe, but might be less compelling and less interesting and also we have technology on our side in esports that allows us to do some more interesting things."
Mykles offered two ideas. The first is to take advantage of augmented reality, which has already seen use in esports matches as an additive form of entertainment rather than a sponsorship opportunity. For example, he showed a clip of an AR dragon landing on top of the stadium for the League of Legends 2017 World Championships -- a performance for which the company won an Emmy.
"Many brands are new to esports. They're dipping their toes in the water for the first time"
"This is a pretty impressive technical achievement, and I think in general augmented reality has been underused as a sponsorship tool, because you can add almost anything at any scale," Mykles said.
A second possibility for brand sponsorships that Mykles suggested is to take advantage of available real-time data for fantasy esports. Already, Twitch plugins let people predict winners, high damage dealers in matches, and more. The Overwatch League currently incentivizes participation by offering in-game rewards to those who make accurate predictions
"If you wanted to drive a lot of interaction, actively sponsoring something like this would mean whenever someone opens the Overwatch League website to make their predictions, or over the course of several games in a row, somebody is seeing your branding, your campaign, as they're making selections. And they will do it, because they are getting in-game currency they can use to upgrade the aesthetics of their characters."
Ultimately, Mykles wants esports companies specifically to offer non-endemic brands a helping hand as they make their forays into esports. Otherwise, he said, the industry might lose them.
"What I'd really love to see brands doing more is a lot of this custom content. And sometimes a lot of the developers or producers are reluctant to do this, especially if clients aren't asking for it, because a lot of times it will require work from the developers themselves outside of the esports or sponsorship teams in order to get these products. But for me, I think it's important this is done because keeping the brands around has been one of our central challenges.
"Many brands are new to esports. They're dipping their toes in the water for the first time. They don't really know how to activate in the space. They'll create a sort of one-dimensional marketing campaign, it can sometimes be ineffective, and then they leave forever. And that's not really the [kind of] stability of partnerships we're interested in making in this industry."
Gamesindustry.biz is a media partner to Esports BAR, which is run by our parent company Reed Midem.