Born Ready studios founded by Doublesix staff
James Brooksby heading up new venture as Doublesix refocused on publishing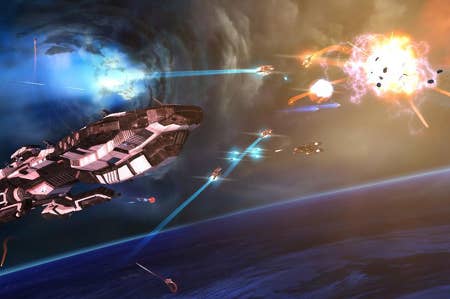 A new independent UK studio has been founded by ex-members of Doublesix to carry the development of the studio's current title, Strike Suit Zero, to fruition.
Born Ready will be headed by Doublesix boss James Brooksby and will employ many ex-Doublesix staff. The studio has taken ownership of the Strike Suit Zero IP from Doublesix, with parent company Catalis retaining a "financial stake" in the project.
"Our new independent games studio is dedicated to making Strike Suit Zero the best game it can be," says Brooksby. "It's a labour of love for everyone involved and we are very happy to be able to finish and self-publish it under the new banner of Born Ready.
"We are at the birth of an exciting new development studio packed with talented people who all share the company's grand ambitions."
In order to found Born Ready, Brooksby has raised capital from an external angel investor, which has decided to remain anonymous. The agreement to found Born Ready and transfer the Strike Suit Zero IP was taken mutually between all parties.
GamesIndustry International has learned that Catalis' stake in Born Ready and the Strike Suit Zero IP does not amount to shares in the company, but it seems likely that it will represent a method of recouping the investment already made in the game whilst it was being developed at Doublesix.
"We wish Born Ready Games and Strike Suit Zero all the best, and are looking forward to seeing the result of a project we have been so closely involved in." said Catalis CEO Dominic Wheatley.
Doublesix's publishing business, Doublesix Digital Publishing, will remain, but the studio side of the business will be closed.
"Doublesix Digital Publishing will continue to support all of its existing products - including All Zombies Must Die!, Who Wants To Be A Millionaire? Special Editions and Burn Zombie Burn! - with new content on the way for both Burn Zombie Burn! and Who Wants To Be A Millionaire? Special Editions," Wheatley continued.
"Going forward Doublesix will continue to focus on the publishing of games, and the company will fund and support new game development."
Strike Suit Zero is planned for PC release this Autumn, with console SKUs following in 2013.