Bomb Gaza pulled from Google Play
Bomb-the-militants game yanked from sale; other Gaza-themed apps remain available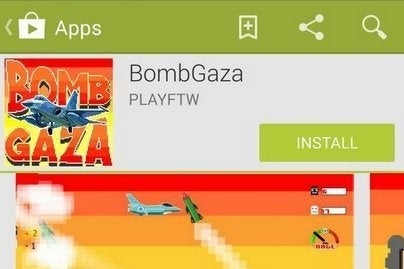 A game based on the current conflict in Gaza has been pulled from the Google Play store. A representative with the web giant confirmed for GamesIndustry.biz that Bomb Gaza has been removed from its app catalog.
"We remove apps from Google Play that violate our policies," the representative said, noting that the company does not comment on specific apps.
Developed by PLAYFTW, the Bomb Gaza game encouraged users to "drop bombs and avoid killing civilians." A screenshot of the Google Play store tweeted this morning by Murtaza Hussain showed the game had a 4.5 star rating with more than 500 downloads since its July 29 launch. PLAYFTW has two free-to-play apps remaining on the store, a multicolored keyboard app called Piano and a sci-fi arcade-style game called Space War - New Era.
Google's policies include prohibitions on the depictions of gratuitous violence as well as hate speech ("content advocating against groups of people based on their race or ethnic origin, religion, disability, gender, age, veteran status, or sexual orientation/gender identity"). While Google has typically allowed developers more leeway with subject matter than Apple, the search giant has pulled a number of inflammatory titles, including a plastic surgery title aimed at children. However, other controversial titles like Joyful Executions, which casts players as the leader of a North Korean firing squad, have been allowed to remain on the storefront.
Other games inspired by the recent conflict--such as Iron Dome, Gaza Hero, and Gaza Defender--also remain available.