Blockbuster to return to UK high street
UPDATE: Strange twist as Crash Entertainment removes all Blockbuster mention from its site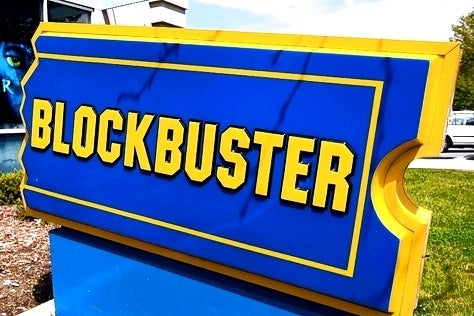 Update
Mysteriously, Crash Entertainment has now removed all reference to the Blockbuster brand from its website, although a cached version of the brands section of its website can still be found online. There you can now find a heavily edited version of the original announcement, removing the quote from the Dish Network CEO and suggesting the company is just in talks.
"Crash Entertainment Group (CEG) a UK based company is looking to bring the brand back to the UK and is in talks with Dish Network to licence the brand," says the edited text on the cached site.
If talks are successful we will not be opening any stores yet as this will be a on-line operation only for now. Membership accounts from customers will no longer exist under CEG and customers would need to register for a new account for free. Games, Music, Movies, Electronics and of cause Rental will be a big part of the business. Online rentals will be available via new platforms and available for download rental and we will look to expanding this to other media in the future.
One of the new platforms we would like to launch is a on demand service via TV. We have spoken to TIVO & Virgin Media about launching a service and it looks promising. All this is now with Dish Networks and how we could potentially use the brand again in the UK.
We will keep you informed of any developments.
Crash Entertainment has not responded to requests for more information on the deal, but MCV reported that this afternoon Virgin denied any knowledge of a return of Blockbuster On Demand, which Crash Entertainment suggested it would run through Virgin's Tivo service.
Original story
15 Blockbuster stores will open on UK high streets as a result of a deal that sees the DISH Network Corporation licence its brand Blockbuster to Crash Entertainment.
"This is good news for Blockbuster customers in the UK, as consumer demand is clearly moving to digital distribution of video entertainment," said DISH CEO Joseph P. Clayton.
"Despite our closing of the physical distribution elements of the business, we continue to see value in the Blockbuster brand, and we expect to leverage that brand as we continue to expand our digital offerings."
10 new stores will open and 5 Isle Of Man Crash Entertainment stores will be rebranded. Crash Entertainment will also operate the Blockbuster On Demand service.
Crash Entertainment's other brands include Crash Radio UK and Jack FM Liverpool.
All Blockbuster UK stores closed in December 2013 after administrators Moorfields Corporate Recovery failed to find a buyer.