Bit Fry backers invest additional $3.5 million
Bitkraft Esports Ventures and 1Up Ventures increase their stake in creator of many-licensed sports franchise Ultimate Rivals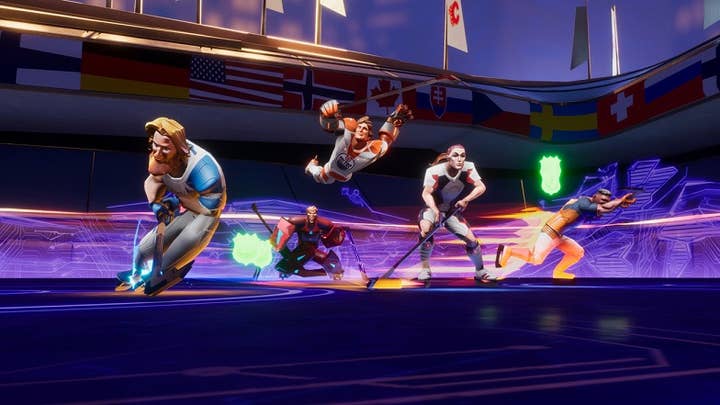 Bit Fry Game Studios has landed some additional funding. The developer of Ultimate Rivals: The Rink today announced that it secured an additional $3.5 million from two of its previous investors: 1Up Ventures and Bitkraft Esports Ventures.
The studio will use the money to grow its Ultimate Rivals franchise, which launched in December as part of Apple Arcade but will expand to other platforms. The debut game in the franchise, Ultimate Rivals: The Rink, is an arcade-style game that features players from the NHL, NBA, MLB, WNBA, NFL, and US women's national soccer team playing a futuristic game of hockey against one another. The game also has licensing deals with the leagues as well, so official team names and logos are also featured (except for NFL pros, as Bit Fry has a licensing agreement with the NFL Players Association but not the league itself).
The next game in the series is Ultimate Rivals: The Court, a basketball game expected to arrive later this year.
"As we continue to expand our franchise into the competitive gaming space, I can't think of better capital and strategic partners than Bitkraft and 1Up Ventures," Bit Fry CEO and founder Ben Freidlin said. "Bitkraft is the world's preeminent esports-focused fund, and Ed [Fries, co-creator of 1Up Ventures] is a gaming luminary as co-creator of Xbox. Their investments demonstrate how our studio continues to attract leading strategic capital players in this highly competitive space."
Fries explained 1Up Ventures' interest in the studio, saying, "Bit Fry's ability to execute on its vision has been nothing short of remarkable. They're continuing to attack an opportunity previously thought impenetrable and is long past due."
Beyond the funding, Bit Fry also announced two new executive hires. Esports shoutcaster Nick Caras has been brought on board as the company's new VP of competitive gaming strategy, while former American Athletic Conference host and reporter Hali Oughton was named VP of community and engagement.
For more on Bit Fry and Ultimate Rivals, check out our recent interview with Freidlin.