Bethesda wins E3 coverage race - ICO
Consultancy's CEO analyzes which games and companies got the most press last week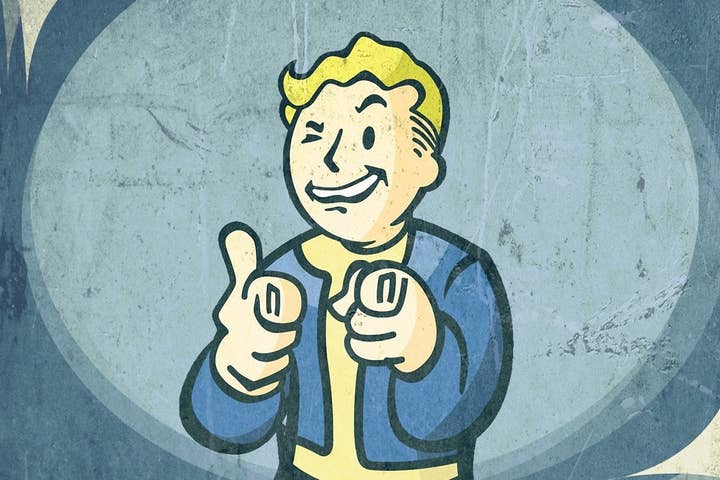 "Who won E3?"
Most years, that question is answered with the name of a platform holder, be it Sony, Microsoft, or Nintendo. This year, the answer could come as a surprise. According to ICO Partners' assessment of media coverage coming out of the show, it was Bethesda that had the best showing, starting with its first-ever E3 press conference the Sunday before E3 kicked off.
"There is no doubt in my mind that Bethesda is the clear 'winner' of this E3," ICO CEO Thomas Bidaux wrote in a post detailing his findings.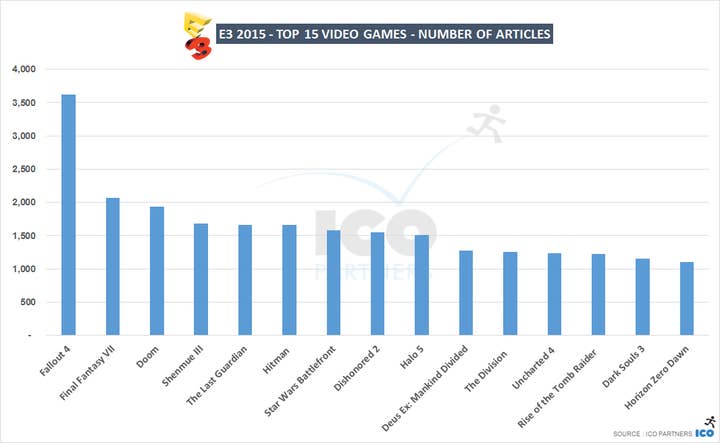 Bethesda came into the week with a full head of steam, its recent Fallout 4 announcement marking the most covered game reveal since ICO started developing its Media Monitor tool in 2013. It carried that momentum into the show itself, with Fallout 4 made the subject of more than 3,500 articles during the week, well above the second most covered game, Final Fantasy VII Remake. Despite strong showings from other Sony conference reveals for Shenmue III and The Last Guardian, Bethesda's Doom was the third most covered game of the week, and the publisher's Dishonored 2 was eighth on the list.
"They brilliantly managed the event (from a media presence perspective at least) and I will be very curious to see next year who will try to get the Sunday conference spot," Bidaux said. "Prior to the event, I was very skeptical about Bethesda's decision to do a conference at E3. Those conferences are expensive to set up and a massive burden on your teams to organise properly. I also tend to question the wisdom to share the limelight with your competition during the same week. Sony's Playstation Experience was a great illustration of how running your own media event could benefit you in a great (better?) way than a shared global event. With Bethesda running Quakecon, I was thinking they would be diluting their effort in an event where it would difficult for them to shine. I was wrong - they did great. Which makes me wonder if the others were not wrong in sharing their audience with them this time around."
Bethesda wasn't the only third-party publisher with a new media briefing this year. Square Enix held its own conference on Tuesday morning of the show, and while it fell shy of the mark set by Bethesda, Bidaux said the Tomb Raider and Final Fantasy publisher still outperformed longtime E3 conference holders Ubisoft and Electronic Arts when it came to generating articles for their biggest games. Even if the boost from the long-awaited Final Fantasy VII Remake is an unrepeatable anomaly, Bidaux noted that the publisher saw strong receptions for Hitman and Deus Ex: Mankind Divided. Additionally, the numbers for Final Fantasy VII Remake and Tomb Raider were helped considerably by their appearances in the Sony and Microsoft conferences, respectively.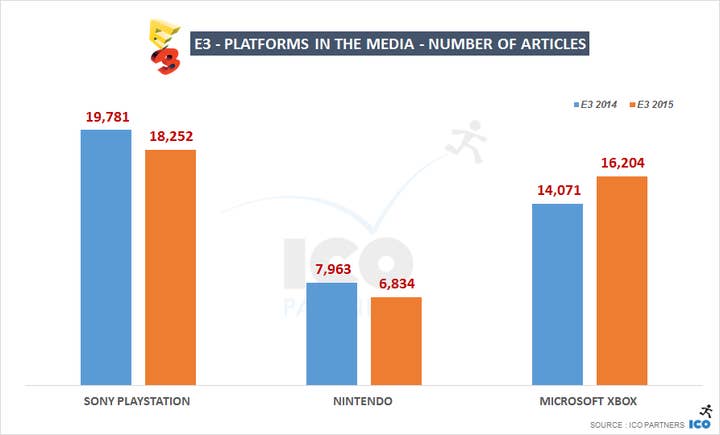 "It is fascinating to see the two publishers that aren't traditionally seen hosting an E3 conference performing so well in comparison to EA and Ubisoft," Bidaux said. "I am pretty sure the devil is in the details, and the fact they elected to have a conference this year of all years was also driven by the strength of their announcements. Nonetheless, I wouldn't have predicted such an outcome."
As for the platform holders, Microsoft had the best show relative to last year. Sony still commanded a lead in the overall number of articles about PlayStation and in their reach, but the number of E3 articles covering Xbox grew this year (something Sony and Nintendo can't say about their platforms), and the reach of those articles also grew considerably more than that of the Xbox's competitors.