Batman: Arkham Knight is the UK's biggest launch of 2015
Rocksteady's return topples The Witcher 3, posts biggest week 1 sales in the series' history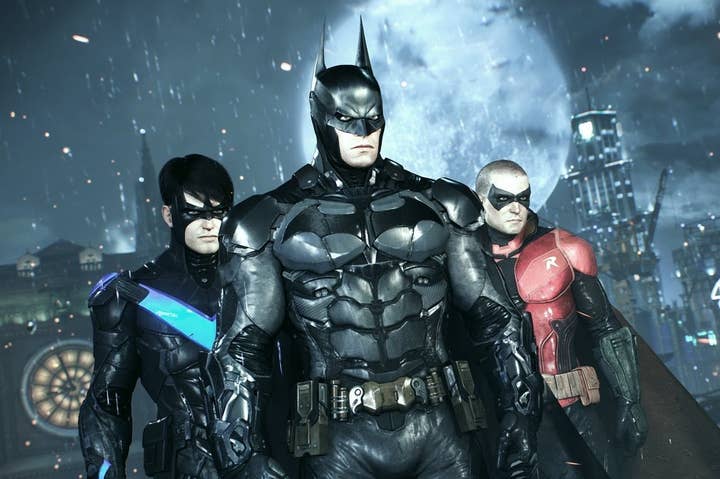 Rocksteady's Batman: Arkham Knight had the biggest debut week of any game in the UK this year, and the best start of any game in the series.
Arkham Knight marks Rocksteady's return as lead studio on the series it started with Arkham Asylum in 2009. The third game, Arkham Origins, was developed by WB's Montreal studio, and it suffered a dip in both sales and critical plaudits relative to its predecessor, Rocksteady's excellent Arkham City.
So this is a return to commercial form, with Arkham Knight out-selling Arkham City in its first week in the UK. It is also a milestone for the year, "comfortably beating" The Witcher 3's week 1 performance, according to UKIE and Gfk Chart-Track.
In fact, it has been a vintage year for Warner Bros. in terms of games. Arkham Knight is the publisher's fourth UK chart-topper this year, the first time a publisher has achieved that since EA in 2012. The other number one games are Dying Light, MK X and Lego Jurassic World.
The other big new entry in the UK top 10 was Yoshi's Woolly World on Wii U, which finished the week in 4th place.
| Last Week | This Week | Title |
| --- | --- | --- |
| New Entry | 1 | Batman: Arkham Knight |
| 1 | 2 | LEGO Jurassic World |
| 2 | 3 | The Elder Scrolls Online |
| New Entry | 4 | Yoshi's Woolly World |
| 3 | 5 | The Witcher 3: Wild Hunt |
| 4 | 6 | GTA V |
| 7 | 7 | Call of Duty: Advanced Warfare |
| 5 | 8 | FIFA 15 |
| 9 | 9 | Destiny |
| 7 | 10 | Final Fantasy XIV: Heavensward |