Assassin's Creed Valhalla takes Christmas No.1 as Cyberpunk 2077 falls to third | UK Boxed Charts
Under 9,000 sales separates the Top Five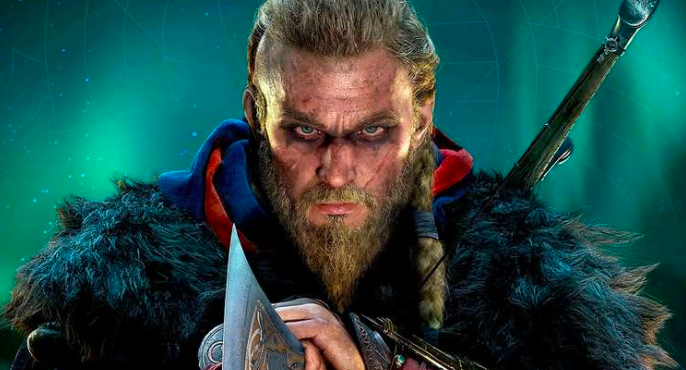 It was a close race for Christmas No.1 this year, with Ubisoft's Assassin's Creed Valhalla emerging as the No.1 physical game of the period.
It's the first time Assassin's Creed has claimed the Christmas No.1 position (and indeed, the first time for Ubisoft), and only the third time a non-FIFA or Call of Duty game has topped the boxed charts in 15 years (source: GfK Entertainment).
The game shot up in sales 66% due to some price discounting ahead of Christmas. The game beat out Call of Duty: Black Ops Cold War, which was in second place after managing to sell as many copies this past week as it did the week before. It is the first time the Black Ops sub-series has not managed to claim Christmas No.1.
The big No.1 of last week was Cyberpunk 2077, and the RPG dropped 80% in sales this week and falls to No.3. The game has received some extremely negative press in recent days due to its poor technical performance on PlayStation 4 and Xbox One. However, it's worth noting that an 80% drop in sales is not hugely unusual for a game such as this. Indeed, other games that secured big pre-orders, like The Last of Us: Part Two in the summer, and Assassin's Creed Valhalla in November, both dropped by 80% and 70% respectively in their second week.
It's likely the negative press has had some impact upon the game's sales this week, but the majority of the decline is to be expected.
CD Projekt's new game does hold off FIFA 21, which has to settle for fourth place despite a 40% sales increased. Meanwhile, Animal Crossing: New Horizons is at No.5 with an 11% drop in sales, the first sales drop it's experienced in over a month. Just 9,000 units separates Animal Crossing at No.5 and Assassin's Creed Valhalla at No.1.
This entire chart is purely based on physical retail sales.
Elsewhere, there were a number of last minute spikes in sales across the charts, partially due to price discounting. Spider-Man: Miles Morales climbs to No.6 after a 45% sales rise, Ring Fit Adventure returns to the Top Ten at No.9 after an 155% sales jump and Super Mario 3D All-Stars holds tenth spot with a 44% sales increase. Outside of the Top Ten, Immortals: Fenyx Rising jumps to No.12 thanks to an 107% sales increase, Watch Dogs Legion is at No.14 due to a 98% sales spike, and Carnival Games returns at No.35 with a 499% sales surge. There were deals on PS4 games, too, which meant that The Last of Us: Part Two is back at No.30 with a 374|% sales spike, and Ghost of Tsushima reaches No.34 after sales rose 208%.
Here is the Christmas GfK Top Ten for the week ending December 19th:
| Last Week | This Week | Title |
| --- | --- | --- |
| 4 | 1 | Assassin's Creed Valhalla |
| 2 | 2 | Call of Duty: Black Ops Cold War |
| 1 | 3 | Cyberpunk 2077 |
| 5 | 4 | FIFA 21 |
| 3 | 5 | Animal Crossing: New Horizons |
| 8 | 6 | Spider-Man: Miles Morales |
| 7 | 7 | Mario Kart 8: Deluxe |
| 6 | 8 | Just Dance 2021 |
| 16 | 9 | Ring Fit Adventure |
| 10 | 10 | Super Mario 3D All-Stars |
And just for fun, here are all the other Christmas No.1s in history. FIFA (eight) and Call of Duty (nine) are the franchises that have the highest number of Christmas No.1s.
| Year | Title |
| --- | --- |
| 2020 | Assassin's Creed: Valhalla (Ubisoft) |
| 2019 | Call of Duty: Modern Warfare (Activision) |
| 2018 | Red Dead Redemption 2 (Rockstar) |
| 2017 | Call of Duty: WWII (Activision) |
| 2016 | Call of Duty: Infinite Warfare (Activision) |
| 2015 | Call of Duty: Black Ops 3 (Activision) |
| 2014 | Call of Duty: Advanced Warfare (Activision) |
| 2013 | FIFA 14 (EA) |
| 2012 | Call of Duty: Black Ops 2 (Activision) |
| 2011 | The Elder Scrolls V: Skyrim (Bethesda) |
| 2010 | Call of Duty: Black Ops (Activision) |
| 2009 | Call of Duty: Modern Warfare 2 (Activision) |
| 2008 | FIFA 09 (EA) |
| 2007 | Call of Duty: Modern Warfare (Activision) |
| 2006 | FIFA 07 (EA) |
| 2005 | Need for Speed: Most Wanted (EA) |
| 2004 | Need for Speed: Underground 2 (EA) |
| 2003 | Medal of Honour: Rising Sun (EA) |
| 2002 | Grand Theft Auto: Vice City (Rockstar) |
| 2001 | Harry Potter and the Philosopher's Stone (EA) |
| 2000 | Who Wants To Be A Millionaire (Eidos) |
| 1999 | Tomb Raider 4: The Last Revelation (Eidos) |
| 1998 | The Legend of Zelda: Ocarina of Time (Nintendo) |
| 1997 | FIFA: Road To World Cup 98 (EA) |
| 1996 | FIFA 97 (EA) |
| 1995 | FIFA Soccer 96 (EA) |
| 1994 | FIFA Soccer 95 (EA) |
| 1993 | FIFA International Soccer (EA) |
| 1992 | Sonic The Hedgehog 2 (Sega) |
| 1991 | WWF Wrestlemania (Ocean) |
| 1990 | Teenage Mutant Ninja Turtles (Mirrorsoft) |
| 1989 | Chase HQ (Ocean) |
| 1988 | Operation Wolf (Ocean) |
| 1987 | Out Run (Sega) |
| 1986 | Gauntlet (US Gold) |
| 1985 | Commando (Elite) |
| 1984 | Ghostbusters (Activision) |