Are retail investors right to be worried after E3?
GAME and GameStop's share price takes a tumble following last week's LA event
Retailers GAME and GameStop both suffered big drops in share price following last week's E3.
The press conferences themselves didn't have a profound impact on the share price (although there was broadly a dip in the mornings after the Xbox and PlayStation conferences), but it was as the doors closed in LA when the most severe fall occurred.
This isn't unheard of. Last year's E3, which was notable for not featuring Nintendo Switch or PS4 Pro, also had a negative impact upon the value of GAME and GameStop. Whereas the previous two E3s, boosted by an influx in games for the new PS4 and Xbox One, had a positive impact.
Despite its current position as a media and consumer event, E3 remains a pivotal moment in the games retail calendar. The console triple-A sector (where E3 excels) is still a big boxed market, which makes the show a strong indicator as to how physical goods may perform over the next 12 months.
It's clear after E3 that investors feel retail is in for another bumpy year.
Why are investors worried?
Every year, investors look to E3 to see what products are coming down the pipe. What's launching during Christmas is particularly key, as that's when the majority of sales are made. After Red Dead Redemption 2's delay, analysts were looking to E3 to see if there's anything to plug the gap. There wasn't.
Aside from two new Bethesda games (both due in October), the vast majority of new titles shown at E3 were for 2018 or later. The games that elicited the biggest reactions, like Anthem and Beyond Good and Evil 2, are a long way away.
The big Q4 product to be revealed was Xbox One X. However, the $499/£449 price - although reasonable for the technology - will likely prevent the machine hitting a mass audience this year. IHS estimates 500,000 Xbox One X sales by the end of 2017.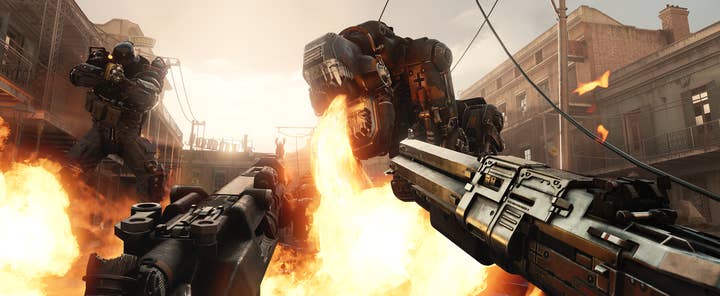 Are they right to be worried?
Last year was disappointing for retail, and if you compare like-for-like, this year doesn't offer a whole lot more - in fact, it offers less. There are some positives, EA is bringing Need for Speed this year, and Activision will also deliver a new Destiny to market.
"Last year was disappointing for retail, and if you compare like-for-like, this year doesn't offer a whole lot more - in fact, it offers less"
Yet there's lingering uncertainty over the strength of the Assassin's Creed brand (which is Ubisoft's big Q4 release this year, following 2016's Watch Dos 2), and there's no Mafia or Final Fantasy-sized product from 2K or Square Enix.
Last Christmas also witnessed four hardware launches - PS4 Pro, PS4 Slim, Xbox One S and PlayStation VR. This year's line-up hardware consists primarily of Xbox One X.
The weaker schedule, and the general trend towards digital, is enough to frighten even the most optimistic of investors.
So is there any hope?
The devil is in the detail, and there are some reasons to be optimistic.
The year gap for Assassin's Creed may be exactly what the franchise needed to give it a boost. Warner Bros' Shadow of Mordor went down strongly at E3, as did - most significantly - Call of Duty: WWII. That title hasn't suffered the consumer backlash that hurt the PR campaign for last year's Call of Duty: Infinite Warfare. Activision expects a much stronger commercial performance this time around.
In additional, the reception to Destiny 2 and Star Wars: Battlefront II suggests that both titles will likely play a big part in the Christmas run-in.
Yet the big hope may lie with Nintendo. Switch has got off to a strong start, and the buzz out of E3 was that the platform holder will be able to maintain the momentum. Super Mario Odyssey collected numerous 'game of the show' awards, while the addition of Mario + Rabbids, Pokken (announced just before E3) and Rocket League has given the machine some content depth this year.
The worry for retail is around stock, which has proven hard to come by. Nintendo says it expects to ship 10m consoles by March next year, which means retailers should hope to see an improvement in stock levels, probably in time for Christmas.
However, it's not certain. And it's that lack of certainty, coupled with the continued dominance of digital and a drop in the number of major releases this Q4, that will be worrying investors.
If retailers can navigate their way through another tricky Q4, it can look forward to a strong start to 2018, buoyed by the promise of God of War, Sea of Thieves, Monster Hunter Worlds, Far Cry 5 and Red Dead Redemption 2.