Apptopia October report: Asian developers dominate the top new games on iOS and Android
Games from Asian markets account for nine of the top ten new games on App Store in terms of IAP spending
Market intelligence firm Apptopia has revealed the top new games worldwide for October across iOS and Android.
In terms of in-app spending, Asia dominates the App Store, with nine out of ten top grossing new games coming from Asian markets.
It's a different story regarding downloads however, where only four out of the top ten new games are from Asian markets.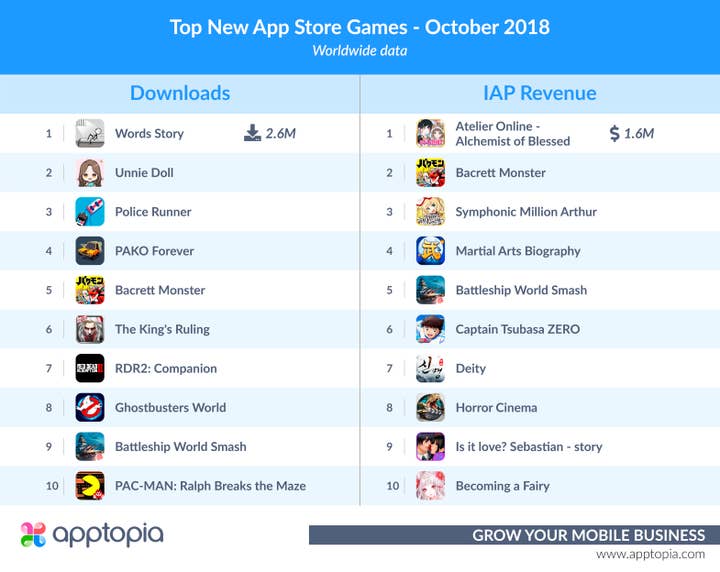 "Apple continues to make inroads in Asia," said Apptopia. "While its market share of downloads in the continent is not strong, it has been able to tap into the culture's propensity to spend on mobile."
Despite this, Android still leads in Asian markets with the top new games racking up more downloads and higher in-app purchase revenue.
Words Story, Unnie Doll, and Pac-Man: Ralph Breaks the Maze are the standouts for October, managing to break the top ten downloads on both iOS and Android.
Regarding in-app spending revenue, only Atelier Online, Bacrett Monster, and Deity made the top ten on both stores.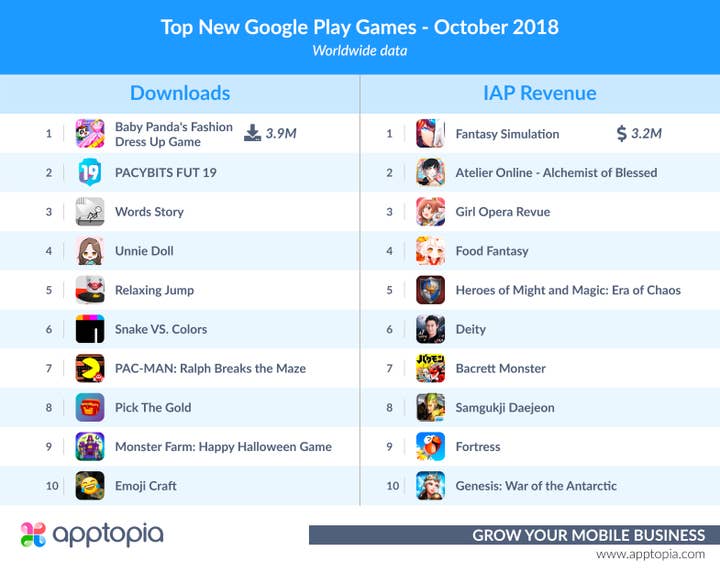 Breaking down new games by category, Arcade and Puzzle lead both the App Store and Google Play. While strategy titles have long proved to be some of the highest grossing games on mobile, it's not an area many new developers are seeking to exploit.
"In October, the top 50 Strategy games created 78% of the revenue for that category," said Apptopia.
"This category is top heavy and dominated by games such as Clash of Clans, Lords Mobile, Final Fantasy XV, etc.
"As you can see by the breakdown of new game launches, developers mostly, and correctly, leaned in other directions for their new games in October."