Apple unveils new iPad with retina display
Resolution of 3.1 million pixels for third generation tablet, A5X processor; Epic Games' Infinity Blade demoed at Apple event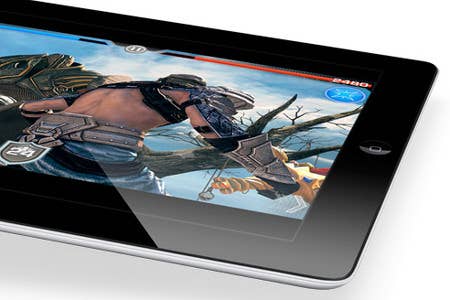 Apple has unveiled a new iPad with retina display supporting a resolution of 2048 x 1536, or over 3.1 million pixels, "the most in a mobile device," according to the company.
The device boasts 1080p video recording, voice dictation, LTE 4G connectivity and the iSight camera comparable to the one found in the iPhone 4S. It features Apple's A5X processor with quad core graphics capabilities. According to Apple, that's around four times the performance of the Tegra 3 from Nvidia.
The new iPad will be available as a 16GB SKU for $499, $599 for a 32GB version and $699 for a 64GB model. The tablet goes on sale March 16 in the US, UK, Germany, Japan and Canada, and March 23 elsewhere.
Epic Games president Mike Capps joined the Apple executives on stage at a special event in San Francisco today to unveil Infinity Blade: Dungeons built using the Unreal Engine.
According to CEO Tim Cook, the iPhone, iPod and iPad devices have sold a combined total of 315 million, with 62 million sales in the 2011 Q4.
The company also confirmed the launch of a new 1080p Apple TV, to go on sale March 16 for $99. The device runs at 1080p and uses the iOS operating system.