Apple unveils 64-bit iPhone 5S
New smartphone billed at double the speed of predecessor; iPhone 5C brings lower cost colorful plastic line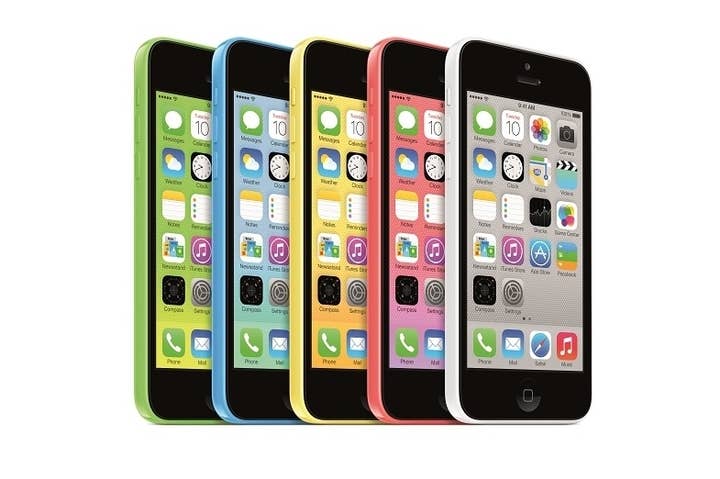 As expected, Apple today unveiled two new iterations of the iPhone 5 in a media briefing at its Cupertino, California headquarters. As reported by The Verge, the lower-cost iPhone 5C features colorful plastic cases and a better front-facing camera, while the iPhone 5S will be powered by the A7 CPU, the first-ever 64-bit chip in a smartphone.
The new CPU is the most notable iPhone 5S improvement over the original iPhone 5, but Apple has incorporated a number of other tweaks. As rumored, the phone will feature a fingerprint-reading home button for security purposes. The company is also packing in a "motion coprocessor" called the M7 specifically to monitor the device's accelerometer, compass, and gyroscope. The intent is that apps should be able to access this information to tell if you're walking, driving, or sitting still, and Nike has already embraced it with a Nike+ Move app.
The event also saw the unveiling of Chair Entertainment's Infinity Blade III running on the iPhone 5S. Chair's Donald Mustard appeared on stage to introduce the game and tout the 5S' OpenGL ES 3.0 support. The game will launch alongside the iPhone 5S' retail debut.
Both phones will go up for preorder this Friday, September 13, with the devices launching in nine countries on September 20. This will be the first time China has been included in the initial round of countries to receive a new iPhone model. By the end of the year, Apple expects to have its new iPhones in 100 countries and on 270 carriers.
The iPhone 5S will start at $199 for a 16GB model, while the iPhone 5C in green, white, blue, pink, or yellow will sell for $99 for a 16GB model. The iPhone 5 is being discontinued, but the 8GB iPhone 4S will continue to be offered for free. All of the previous prices are contingent on a new two-year service contract.
In other Apple news, the iOS7 operating system on which the new phones will run is set to debut Septebmer 18. Apple also revealed that it will ship its 700 millionth iOS device next month.