Anthem tops UK boxed charts
But how did it really perform?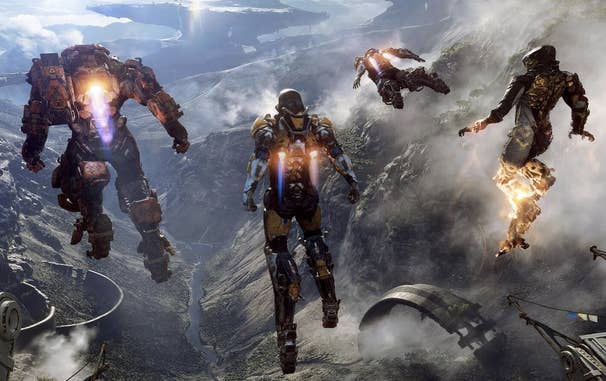 Anthem comfortably claimed No.1 in the UK boxed charts last week.
The EA game performed best on PS4, accounting for 54 per cent of sales. 40 per cent came on Xbox One, with the remainder on PC.
The game sold comfortably more than last week's big new games, including Far Cry: New Dawn and Metro Exodus. But it isn't the fastest-selling game of the year, that is a position currently held by Resident Evil 2 and then Kingdom Hearts III.
Of course, as an online-focused game, it's likely Anthem performed well as a download release. The charts data does not currently factor in digital sales, making any meaningful analysis impossible.
Last week's big games all slipped down the charts. Ubisoft's Far Cry: New Dawn suffered the smallest drop in sales - down 43 per cent week-on-week - and the game falls to No.2.
Metro: Exodus also suffered a relatively small week-on-week decline (down 55 per cent) and the game tumbles to No.5.
Jump Force dropped the furthest, from No.4 to No.17 with a 64 per cent sales drop. This isn't especially unusual for a game with a very specific audience.
While Crackdown 3's sales are down 51 per cent and drops to No.26.
Some of the big games of Christmas, however, saw a sales uptick. FIFA 19 enjoyed a 44 per cent sales improvement partially due to some small price promotion, and the game rose to No.3. Forza Horizon 4 also benefitted from some price activity, and the game rose 82 per cent in sales, taking the game from No.15 to No.6.
There were no other new releases in the charts. After a barrage of new games these last two weeks, the number of major new titles begins to slow for a few weeks. March is full of new titles, but nothing particularly AAA, with the notable exception of Ubisoft's The Division 2.
Here is the UKIE/GfK Top Ten for the week ending February 23rd:
| Last Week | This Week | Title |
| --- | --- | --- |
| New Entry | 1 | Anthem |
| 1 | 2 | Far Cry: New Dawn |
| 5 | 3 | FIFA 19 |
| 3 | 4 | Red Dead Redemption 2 |
| 2 | 5 | Metro: Exodus |
| 15 | 6 | Forza Horizon 4 |
| 6 | 7 | New Super Mario Bros U Deluxe |
| 9 | 8 | Mario Kart 8: Deluxe |
| 10 | 9 | Call of Duty: Black Ops 4 |
| 11 | 10 | Super Smash Bros Ultimate |