Anthem team ditches major seasonal updates in favor of "longer-term redesign"
BioWare intends to "reinvent the core gameplay loop" after a challenging first year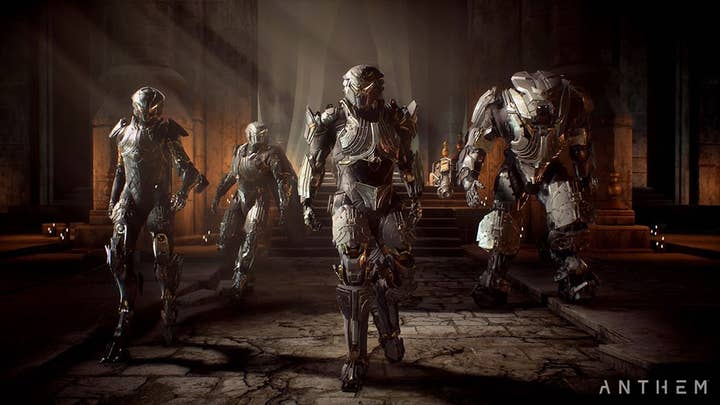 After a challenging first year, BioWare is taking its multiplayer online shooter, Anthem, back to the drawing board.
Studio general manager Casey Hudson wrote in a blog post today that while the team has worked to improve game stability, performance, and quality of life over the course of its first year, they recognized that the game needed a more dramatic overhaul in order to be sustainable long-term.
"We have also heard your feedback that Anthem needs a more satisfying loot experience, better long-term progression and a more fulfilling end game," he wrote. "So we recognize that there's still more fundamental work to be done to bring out the full potential of the experience, and it will require a more substantial reinvention than an update or expansion.
"Over the coming months we will be focusing on a longer-term redesign of the experience, specifically working to reinvent the core gameplay loop with clear goals, motivating challenges and progression with meaningful rewards - while preserving the fun of flying and fighting in a vast science-fantasy setting. And to do that properly we'll be doing something we'd like to have done more of the first time around - giving a focused team the time to test and iterate, focusing on gameplay first."
While BioWare does this work, Hudson added that the current version of Anthem would remain live, but would stop issuing full season updates. However, in-game events, store refreshes, and cycling back through past content would still occur.
Anthem launched in February of 2019 to mixed reviews, with many noting that while its flight and combat had plenty of style, the substance of the gameplay was lacking. Those issues became more noticeable over time as players finished the game's story and moved into its endgame content, which was full of technical issues, content delays, and criticisms that the game's core loop and looting just weren't that fun.
However, EA has been staunch for months that it wouldn't abandon the game. Back in June, CEO Andrew Wilson said that the company was planning to continue to invest in the shooter, as it believed its world, characters, and mechanics were compelling for players.