Android outpaces iOS with 50 per cent spending growth
App Annie report also highlights the increasing dominance of multiplayer games in consumer spending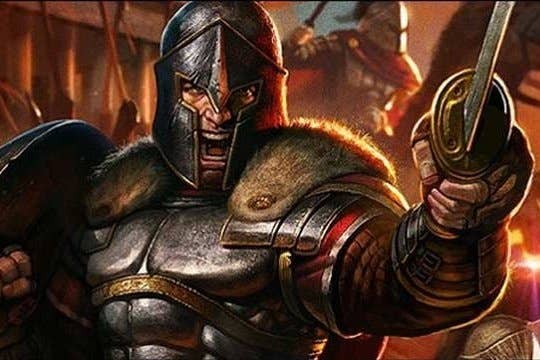 Global consumer spending rose 50 per cent on Android in the first calendar quarter, comfortably outpacing the 30 per cent growth on iOS.
According to new data from App Annie, the gap in total spending may still be very much in favour of iOS, but Android has made up significant ground since Q1 2014. Android's share of the hardware market also grew by 4 per cent in the last year, finishing Q1 2015 with nearly 75 per cent of the global installed base.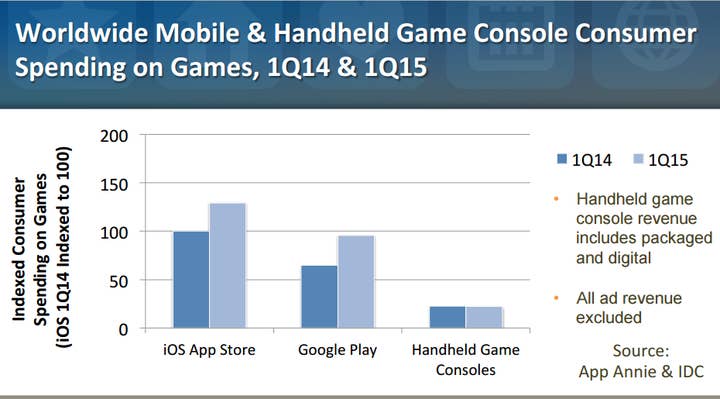 And multiplayer games are a driving force behind that increase in spending, with 6 of the top 10 games in Q1 2015 allowing group or team play. Among the top 50 games in the quarter, 60 per cent of all consumer spending was generated by multiplayer titles, even though they only accounted for 30 per cent of downloads. In both cases, that majority share has increased significantly since Q1 last year.
App Annie also nodded to Steam as proof of the benefits of multiplayer games, not just in terms of revenue, but in their stickiness and the levels of user engagement they inspire. In May 2015, 88 per cent of the peak concurrent daily users for Steam's top 50 games went to multiplayer titles.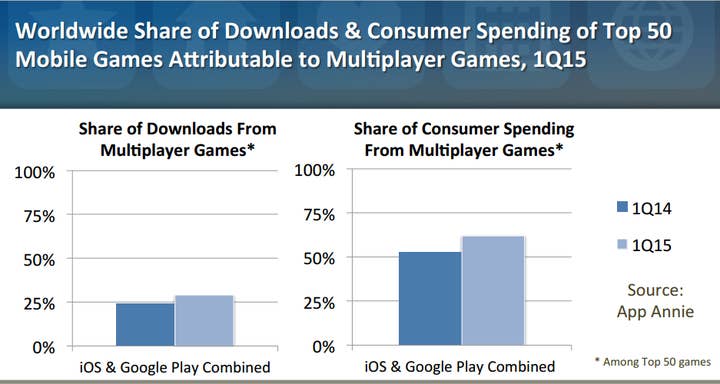 The Apple Design Award-winning Vainglory is an example of these trends playing out in mobile. Super Evil Megacorp's target audience was core gamers like those playing League of Legends and Dota 2 on Steam, who haven't yet embraced mobile hardware as a primary gaming platform.
Speaking to GamesIndustry.biz last year, CEO Bob Daly said that the imminent transition of core gamers from PC and console to mobile and tablet will be, "the next big sea-change in terms of the industry," and, "potentially larger than anything that we've seen in games in a while."
"Right now they see consoles and PCs as their primary gaming platforms and they're also playing on mobile and tablet," added COO Kristian Segerstrale. "Increasingly tablets are outselling PCs, and people are shifting from PCs to tablets, there is an incredible opportunity to create games that ultimately will convince core gamers that these are worthwhile primary gaming platforms."
You can get the full App Annie report by following this link.