Americans to spend more this holiday season
NPD Group finds 77% of consumers planning to spend about the same or more than last year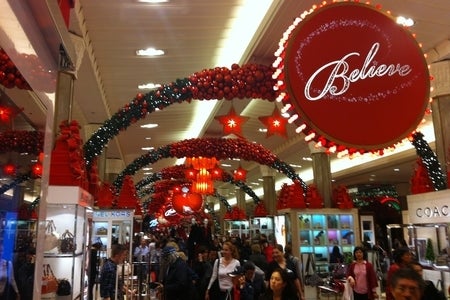 Some industry analysts are expecting flat sales from the gaming industry this holiday season, but there's still room for a bit of optimism. According to the industry tracking NPD Group's latest survey, US consumers aren't planning to tighten their financial belts this year as much as they did in 2011.
Of the 3,618 people surveyed, 77 percent were planning to spend about the same (67 percent) or more (10 percent) this holiday than in the prior year's. That's up 4 percent year-over-year, as the 2011 survey found 64 percent planning to spend the same amount, and 9 percent expecting to increase holiday spending. Unfortunately, increased consumer spending won't necessarily benefit every part of the market.
"Watch for more practical purchases this year with consumers buying useful items that they need rather than spending their money on luxury treats," said NPD chief industry analyst Marshal Cohen. "With a small amount of new products on the market, consumers will give the gift of practicality rather than splurge on special gifts…Consumers tell us they want to shop more but without the 'it' item and lack of pent-up demand this could be the Christmas of Contradictions."
Nintendo no doubt hopes to position the Wii U as the "it" item when it launches in the US November 18. GameStop stopped taking preorders for the system in the US last month, citing "overwhelming demand," and Nintendo of America president Reggie Fils-Aime has said the company's supply chain is "solid," suggesting there will not be a repeat of the Wii's drastic launch hardware shortages.
Image credit: Alex Contratto, The Midtown Gazette