American McGee's first free-to-play game is BigHead Bash
The first game from Spicy Horse has toys dueling against one another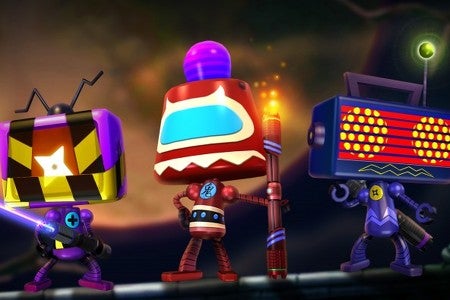 Big Head Bash, the first free-to-play title from American McGee's Spicy Horse studio, has been released exclusively on GameStop's Kongregate. The game features toys in a deathmatch battle across three maps, with more maps and game modes planned.
"The Kongregate team has so much experience in identifying what gamers are looking for" said Spicy Horse CEO McGee. "Their feedback has been invaluable in helping to bring this game to market."
"We are thrilled to be the exclusive launch partner for Big Head Bash," said Kongregate CEO Jim Greer. "American McGee is a veteran and a visionary and has put together a great team at Spicy Horse. Spicy Horse's take on side-scrolling death-match adventure-shooter will be perfect for our hard core players. We look forward to showcasing Big Head Bash to Kongregate's audience of more than 16 million monthly gamers."
Two exclusive collectable packs will be available for the Kongregate launch: Dr. X and Mr. Destructoid. Another set of toys based on Alice: Madness Return will be available on the title's in-game store on June 19.