AIAS opens 2013 Into the Pixel and scholarship submissions
The AIAS wants to give some deserving people honor or money this year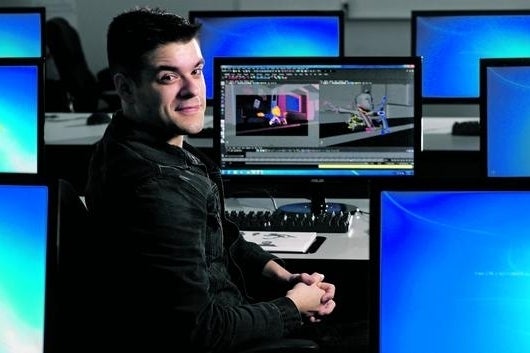 The Academy of Interactive Arts & Sciences (AIAS) has announced that submissions are open for the 2013 Into the Pixel art exhibit and the 2013 Randy Pausch and Mark Beaumont Scholarships.
The Into the Pixel art exhibit features digital game art from developers around the world. Submissions close on April 17, 2013. The 2013 ITP Collection is set to be shown off at this year's E3 Expo on June 11-13, with following tours worldwide. Submission instructions can be found here and this year's judges include:
Bob Rafei - Big Red Button Entertainment, Founder, CEO and Visual Director
Glenn Phillips - Getty Research Institute, Senior Project Specialist & Consulting Curator, Department of Architecture and Contemporary Art
Jon Gibson - iam8bit, Founder and Partner
Matt Hall - Timbuk2 Studios, Senior Partner Production Designer
Nora Dolan - Independent Curator
Patricia Lanza - The Annenberg Space for Photography, Director of Talent and Content
Seth Spaulding - Blizzard Entertainment, Art Manager
The Randy Pausch scholarship honors the memory of Carnegie Mellon University Entertainment Technology Center co-founder Dr. Randy Pausch. It awards two $2,500 scholarships to deserving students pursuing careers in interactive entertainment development, including animation, programming, and game design.
The Mark Beaumont scholarship honors the memory of former Capcom North America and Europe chief operating officer Mark Beaumont. It awards two $2,500 scholarships for students pursuing careers in the interactive entertainment business, including executive leadership, law, and marketing.
In order to qualify students must have a GPA of 3.3 or higher and attend an accredited college or university in the United States during the 2013-2014 school year. The deadline is June 28, 2013 and more information about both scholarships can be found here.
"We are seeing an increased number of universities providing opportunities to nurture and instruct the next generation of students about the intricacies of game making," said AIAS president Martin Rae. "It is our duty to push these dreams forward as these students are the ones who will be building and growing our industry in the coming years. We look forward to announcing the students who really exemplify the spirit of Randy Pausch and Mark Beaumont this summer."
[Image via Puget Sound Business Journal]