Acquisitions in the social market are picking up in 2012
Social gaming enters its second phase as larger companies begin to consume smaller ones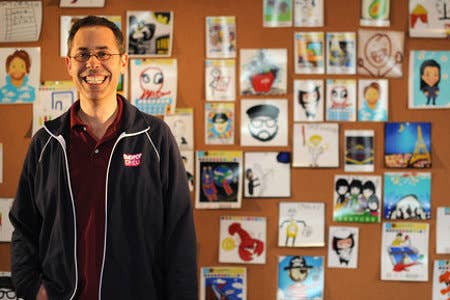 According to digital investment bank Digi-Capital, 2012 will be a year of strong consolidation in the games market, with a big focus on social gaming acquisitions. Following the high-profile acquisition of OMGPOP by Zynga, more companies are looking to sell themselves this year. In the first quarter of 2012, 30 mergers and acquisitions (M&A) led to $1.7 billion in transaction value with an average of $57 million. This pace will exceed the whole of 2011, with 113 transactions generating $3.4 billion with an average value of $30 million.
"We think it is possible that the Zynga/OMGPOP $180M transaction could change some of the operational investment dynamics in the Social games sector, with well-funded competitors investing heavily to try to manufacture a hit in the hope of being acquired at a high valuation. While this could work, a hit driven operational investment approach is not without risk," wrote Digi-Capital in an overview of its 2012 Global Games Investment Review.
Mobile, social, and MMO will continue to dominate M&A in 2012, like they did in 2011, but social gambling looks to be driving more transactions. Gambling firm International Game Technology purchased social gaming company Double Down for $500 million in January. Caesar's Entertainment Corp brand Harrah's also finished its $90 million purchase of Slotmania developer Playtika during the quarter, a transaction that began in May of 2011.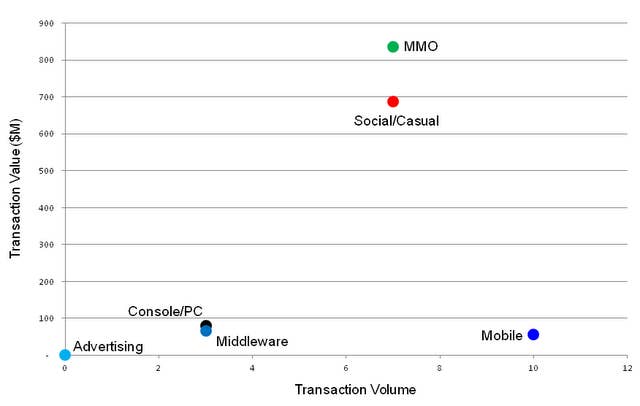 2011 was a record year for games investment with 152 transactions having generated $2 billion with an average transaction value of $13 million. In contrast, Q1 2012 has 38 transactions generating $248 million with an average value of $7 million. This puts 2012's transaction volume at around the same level, but with a 50 percent drop in total and average transaction value. Digi-Capital believes this is because the venture capital market has slowed down on social games investment.
"In 2011 Social/Casual accounted for 57% of transaction value and 32% of transaction volume, but in Q1 2012 it accounted for 3% of transaction value and 16% of transaction volume. So our view that Social Games 1.0 is in consolidation mode could continue to be an ongoing trend through 2012, as the VC market appears to have slowed down its frenetic pace of social games investment from 2011," the firm explained.
Mobile investment will continue to be strong as Chinese and South Korean companies look to expand globally, much like GREE's recently announced investment in IUGO Mobile. Mobile accounted for 30 percent of Q1 2012 by transaction value and 39 percent by transaction volume. The MMO space is also riding high on the free-to-play bandwagon, with 43 percent of transaction value and 21 percent of transaction volume.