AARP: 45% of people 50+ play games
US nonprofit for retirement-age people finds older demographics playing more than they were three years ago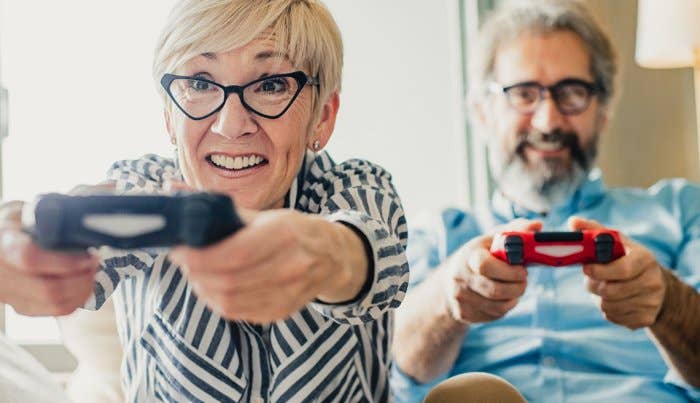 The AARP this week released the results of its latest 50-Plus Gamer of Today and Tomorrow survey, providing insight into the growing game playing audience reaching retirement age.
A survey of nearly 7,800 people conducted last June and July found that 45% of those aged 50 and over played video games at least once a month.
That's up slightly from the 44% reported in the 2019 version of this survey and more significantly over the 38% who played when the first version of the poll was conducted in 2016.
There was more noticeable growth in how much time those 50+ gamers spent playing. In the 2019 poll they averaged 8.5 hours a week over the prior six months. The 2022 poll found that average had grown to 12 hours.
Older gamers also skew heavily to mobile platforms, with 84% saying they played on mobile compared to 28% on console and 21% on smart home technology (which includes smart TVs, digital media players, and home assistants).
Computers, laptops, and tablets were lumped together in a separate category, with 53% of respondents saying they played on them as well.
While more 50+ gamers in the most recent survey actually spent money on games (38% last year, compared to 27% in 2019), the average amount spent in the six months prior to the survey decreased ($49 last year, compared to $64 in 2019).
As for what they play, puzzle and logic, card and tile, and word games were the three most popular genres for each age group examined (50-59, 60-69, and 70+), with the popularity of the word game genre receiving a boost from what the AARP calls "The Wordle Effect."
36% of gamers 50+ listed word games in their top three favorite genres. When the 2019 survey was conducted, Wordle had not yet been released and the word game category was grouped under Trivia and traditional board games, which showed up in the top three genres for just 22% of respondents.
The survey also went into 50+ gamers' reasons for playing – having fun, relaxing, and staying mentally sharp were the top three in order – and even what they don't like about games.
More than half of 50+ gamers said their enjoyment was somewhat or strongly decreased by having to watch ads to make progress (59%), needing in-app purchases to make progress (58%), the amount of ads in games (56%), and the number of notifications to purchase things in games (54%).
On top of that, 69% of gamers 50 and over agreed with the statement "video games are designed with no thought for people my age range."