Can Blizzard's Storm tackle a saturating MOBA market?
SuperData's Joost van Dreunen evaluates the potential impact of Heroes of the Storm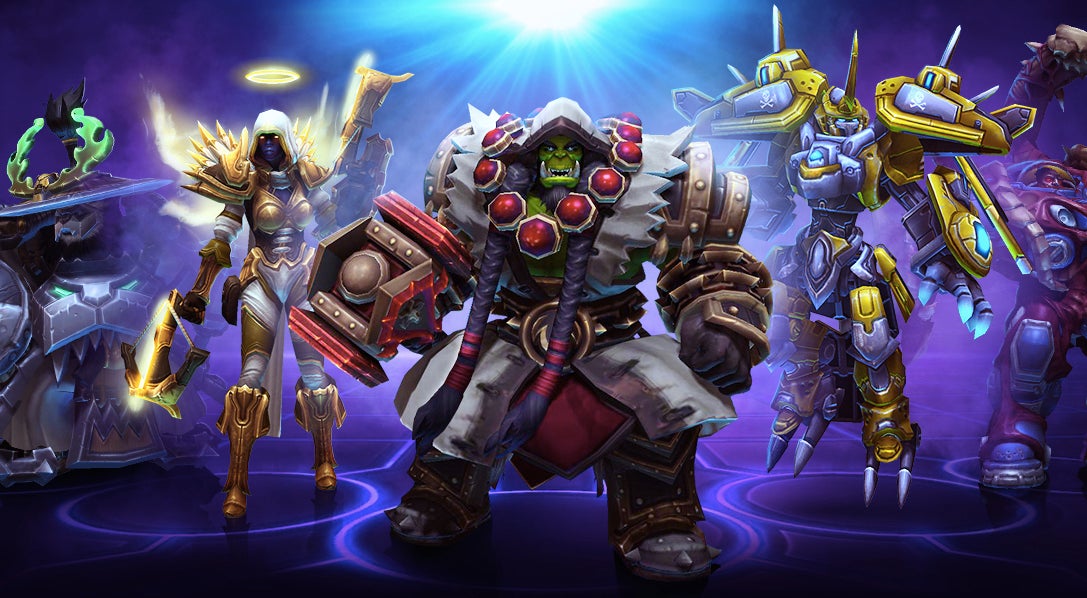 Tomorrow, on June 2nd, Blizzard (NASDAQ: ATVI) will officially release its contender into the market for multiplayer online battle arena games, a genre that has managed to take the online games market by storm in just a few years. The question on everyone's mind as Heroes of the Storm officially launches is whether or not Blizzard can take on the incumbents. Unlike some of the other markets where it has done well, the MOBA market knows several really strong competitors, most notably Riot Games and Valve.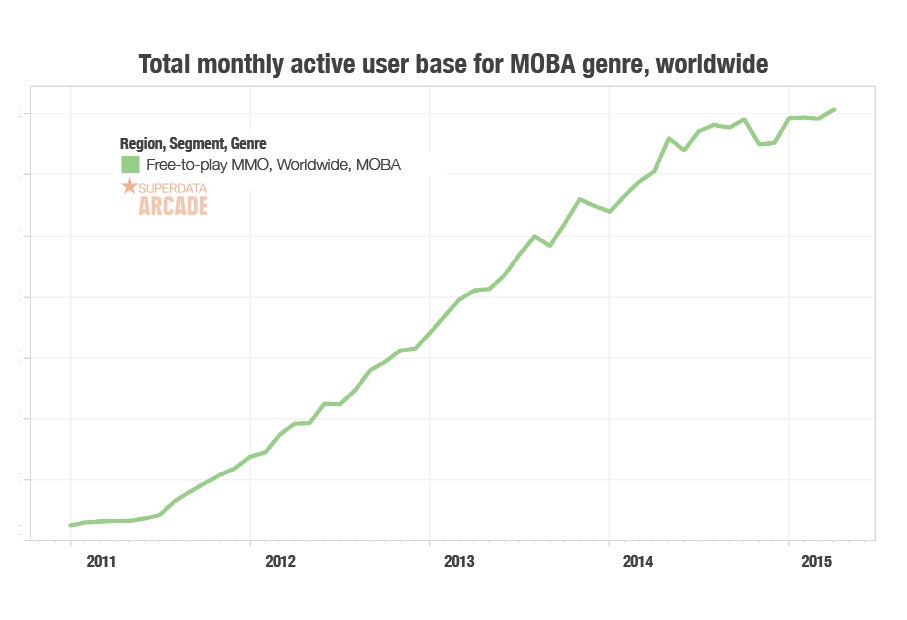 Moreover, following a stretch of several years of growth, the worldwide MOBA market began to show the first signs of saturation in the middle of 2014. During the holiday season in which we typically observe an industry-wide dip in monthly active users for free-to-play games, game audiences instead focused on the big blockbuster releases. Since then, however, the overall market has been unable to regain its momentum compared to a year earlier. Today, the total addressable market for MOBA games hovers around 140 million monthly active users.
The release of Heroes of the Storm, in other words, comes at a time when the market is starting to mature. Gaming audiences are now familiar with the basic premise of MOBA gameplay and much of its lore has started to penetrate the rich fabric of gamer culture as represented by a growing inventory of fan videos, commentary and cosplay at conferences.
This makes sense for a careful publisher like Blizzard because it traditionally looks to mitigate risk and make sure that when it does invest in a new market that it is a proven model with a pre-existing audience. By comparison, neither Hearthstone nor World of Warcraft were the first of their kind in their respective genres. However, they were in many ways superior renditions of existing game mechanics. Blizzard's strength, then, lies in the effective distribution and meticulous execution of publishing games that have mass market appeal. But can it do this again with Heroes of the Storm?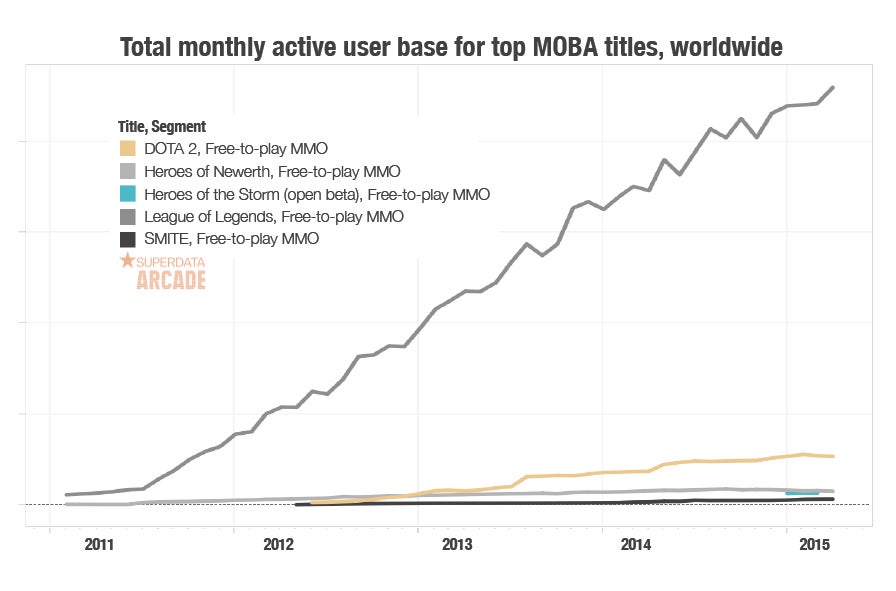 A look at the competitive landscape tells us that, despite the slowdown in the overall addressable market, League of Legends continues to grow. Following the success of its efforts to focus on the user experience, rather than aggressively monetizing, Riot Games has managed to maintain a healthy growth pattern in the face of early signs of saturation. Following its Mid Season Invitational in March this year, League of Legends showed more than 90 million monthly active users in April.
Valve's DOTA 2, an important competitor but by any measure a distant second runner up with 10.8 million monthly active users last month, shows a more stabile progression and even a slight decline in the period following Heroes of the Storm's entry into closed beta last January. Even so, DOTA 2 has a tremendously loyal following, evidenced by the immense contribution its fans made last year to the prize pool of its annual world championship. Where Valve put in $1.6 million, DOTA 2 fans raised that number to $10,931,103. For the 2015 edition, the prize pool stands at $9,954,204 at the time of writing.
"Blizzard would be wise to look past the initial flurry of marketing that follows a release and be weary of high initial user acquisition"
So the question that Heroes of the Storm (HoS) faces is whether it can successfully pull people away from the other existing titles in the market. Generally, new players may be turned off from joining an existing game because they lack the experience and find themselves, at least initially, losing. Of course, there are ways to manage this process. But the appearance of a brand new title to the market may have a strong gravitational pull on players who can't get into the groove elsewhere.
When compared to Heroes of Newerth and SMITE, it seems likely that HoS will manage to capture a larger monthly active audience. Likely contributors are, of course, the existing brand awareness and the triple A marketing cannon that helps further promote the game's release. But, of course, Blizzard is not new to the competitive gaming space. For years StarCraft was at the center of tournaments in both Eastern and Western markets. From that experience the publisher has learned a thing or two on how to successfully organize and build buzz around events (things that for relative newcomers present a steeper learning curve). In fairness, of course, Hi-Rez recently held its first world championship in Atlanta, to which its fan base contributed over $2 million. This is remarkable since SMITE is one of the smaller titles in the space, yet still generated enough in player contributions to provide it with the fourth-largest prize pool with a combined $2.6 million. This placed it even above the 2014 world championship for League of Legends which totalled $2.1 million.
So should the existing MOBAs be worried when HoS goes live tomorrow? During the initial marketing blitz and the June 2nd release it is likely that there will be a drop in monthly active users for all titles in the space. Blizzard is just that large of a publisher that it can command attention for its releases outright. The real question is whether or not it will prove sustainable. It's possible that MOBA players will briefly indulge in the newcomer's offering, only to return to the game they're most familiar with and where their social connections are strongest. Blizzard would be wise, then, to look past the initial flurry of marketing that follows a release and be weary of high initial user acquisition. Instead, it should focus on the long-term, and focus on its ability to retain players as the true measure of its success.