6000 jobs at risk as Comet nears administration - report
Sources claim that the UK's second biggest electronics retailer is in crisis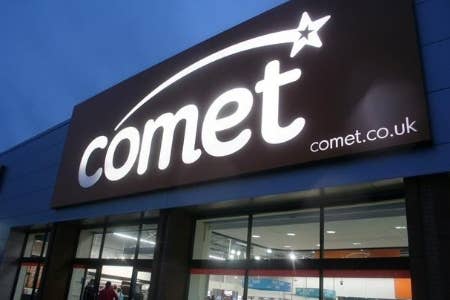 The UK electronics retailer Comet us expected to enter administration today, putting around 6,000 jobs at risk.
According to a report from The Guardian, Comet lost £35 million in the year ending April 2012 due to increasing competition from supermarkets and the ongoing financial crisis in Europe. Comet is the UK's second largest electronics retailer after Dixons, employing 6000 staff across 240 stores.
The Guardian's sources claim that trade insurers have cut credit lines to Comet's suppliers. The financial services conglomerate Deloitte is ready to hand le the administrative process, though Comet will continue trading for the time being.
Comet is owned by OpCapita, the same company that bailed out GAME during its recent crisis. OpCapita purchased Comet from the French company Kesa nine months ago for the nominal sum of £2. In the sales document, OpCapita pledged to keep the chain running for at least 18 months.