100 Day Game Project winners launch onto app store
Surface Tension Studio's Super-Fluid available now on iOS and Android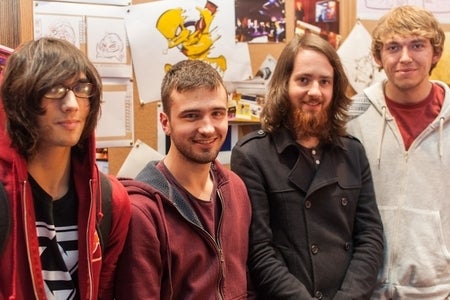 Surface Tension Studios, winners of the Virgin Media 100 Day Game Project, is to release its winning title onto the iOS and Android app stores. The game is available to download for free now from iTunes and Google Play.
Super-Fluid was created over the course of the last 100 days with the help of industry professionals and was showcased at the Eurogamer Expo at the end of last month. The tilt-based puzzle title is the brainchild of Surface Tension's four-man team, who have all recently graduated from the University of Essex.
"We never expected to get such a positive reaction from everyone at Eurogamer. People really seemed to love the game and witnessing the reaction from gamers first hand justified all the work and effort we've put into it," said Dave Pearson of Surface Tension.
"We've had a fantastic time and would like to thank Virgin Media for giving us this amazing opportunity. We've always wanted to work in the games industry and now thanks to this competition it's really happening. We're so proud of what we've achieved and we'd like to continue developing the game, adding new levels and enemies in future."
The members of Surface Tension Studios will now commence an internship in Brighton's Relentless Studios app development team, picking up professional skills and contacts to aid their future careers.