Xbox All-Access expands to UK and Australia with Project Scarlett upgrade option
The smartphone-style contract will include a console and Ultimate Game Pass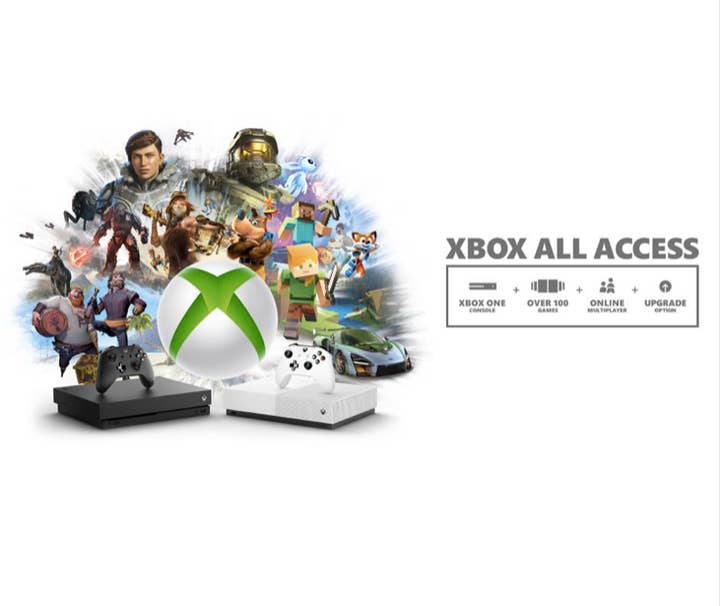 Microsoft's smartphone-style subscription service will return, and this time will be available in the UK, US and Australia.
The way the service works is that gamers can pay a monthly fee for 24 months (prices start from $19.99/£17.99), receive Xbox One hardware (either an X, S or S All-Digital) and a subscription to Ultimate Game Pass - which includes Xbox Live Gold, plus a large selection of games for Xbox One and PC.
The offering was already trialled in the US and will now be coming to the US and Australia. It is available through Amazon in the US, GAME and Smyths Toys in the UK and Telstra in Australia. Microsoft says that more territories will follow.
For those that subscribe to All-Access this year, these customers will be given the opportunity to upgrade their subscription and receive Microsoft's next Xbox, currently named Project Scarlett, when it launches next year. More details and rules around the offer can be found on the Xbox blog.
All-Access is an attempt by Microsoft to offer a smartphone-style offering whereby customers can purchase the latest hardware without the upfront cost. Over this generation, both PlayStation and Xbox delivered upgrades to its hardware in the form of PlayStation 4 Pro and Xbox One X. This has drawn comparisons to how the smartphone market operates, which delivers regular improvements to hardware on an almost annual basis.
Although neither Microsoft or Sony are planning annual hardware revisions, the fact the next generation of machines will be compatible with many of the games and services available on the current devices, means that the transition between the consoles will be more comparable to how the smartphone business works.
"By design, the consumer is at the very center of Xbox All Access," said Jeff Gattis, General Manager of Platform and Devices Marketing at Microsoft. "Xbox All Access gives players everything they need to start playing, on the latest devices with the latest games. Not only does the purchasing flexibility benefit the customer, but the content and quality of the program does as well."
He continues: "This is a first of its kind program for Xbox, and we're pleased to be providing new ways for gamers to experience the best value and choice in gaming. We're also thrilled to provide even more value to our fans by enabling them to experience the best games of Xbox One, with an easy path to upgrade to Project Scarlett when it launches alongside Halo Infinite in Holiday 2020. This is just the start for Xbox All Access - we're excited to bring Xbox All Access to even more players and look forward to expanding the program to more markets and retailers next year."