WoW, Skylanders drive strong Q3 for Activision
Publisher sees better than expected sales and income, raises full-year outlook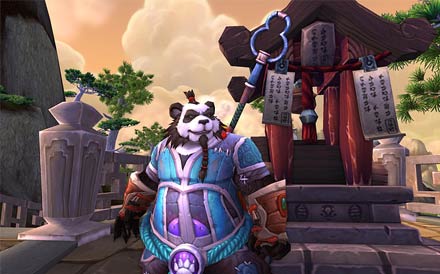 Activision Blizzard's third-quarter fiscal report is what you'd call the polar opposite of THQ's latest. The company posted better-than-expected results, as sales climbed from $754 million to $841 million while earnings per share grew from $0.13 to $0.20. The publisher also did well to increase its share of digital earnings as GAAP net revenues from digital channels came to $430 million (51 percent of the total haul).
Activision had three of the top four best-selling games in North America and Europe for the first nine months of this year, and the third quarter was successful primarily thanks to the solid performances of World of Warcraft: Mists of Pandaria and Skylanders, which Activision boasts has been the number one best-selling console and handheld game overall in dollars (including accessory packs and figures) in North America and Europe for the first nine months of 2012. In addition, Skylanders Spyro's Adventure became the number one action-figure line in the US in that same time.
"Our unyielding commitment to excellence, the strength of our employees around the globe and our focus on creating great entertainment experiences have enabled us to once again deliver better-thanexpected financial results. We have, for the third straight year, generated over $1 billion of operating cash flow for the trailing twelve month period ending September 30," said Bobby Kotick, Chief Executive Officer, Activision Blizzard.
"Our performance was driven by the launch of Blizzard Entertainment's World of Warcraft: Mists of Pandaria and continued sales of its top-selling PC game, Diablo III, as well as Activision Publishing's new entertainment property, Skylanders Spyro's Adventure, and sales of titles in the Call of Duty franchise. Based on our strong third-quarter performance and increased visibility into the remainder of the year, we are raising our full-year financial outlook and expect to deliver record non-GAAP operating margins and the highest non-GAAP earnings per share in our company's history. We now expect non-GAAP earnings per share will increase more than 18% year over year."
On a GAAP basis, the company is expecting $4.57 billion in sales for the full year and earnings per share of $0.88. Needless to say, the launch of Call of Duty: Black Ops II is expected to propel Activision's bottom line quite a bit.
Kotick added, "Skylanders Giants is off to a great start and next week the company will release Call of Duty: Black Ops II, which we believe will be one of the most successful launches of any form of entertainment in history. As we look to 2013, we are cautious about business prospects given a continuingly challenged global economy, the ongoing console transition and very difficult year-over-year comparables due to Blizzard's record-shattering Diablo III sales in 2012. We expect that over the long-term, we will maintain our leadership position as the world's leading interactive entertainment company and continue to provide strong returns to our shareholders by delivering great games to audiences around the world."