Windows Store offers seven-day trial option to devs
Microsoft will differentiate itself by giving consumers access to fully-functional trials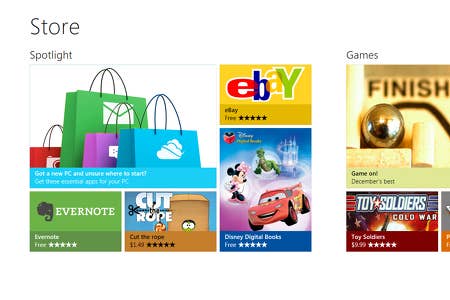 In a post on the Windows Store blog, Microsoft has outlined the options available to developers in its upcoming app store. The Windows Store will have pricing tiers available from $1.49 to $999.99, oddly leaving out the standard $0.99 price point. Developers can choose to offer their app for free or pick one of the pricing tiers, with Microsoft automatically handling equivalent pricing for your app outside of its domestic region.
The stand-out feature for Microsoft's Windows Store is the option to enable a fully-functional seven-day trial for every app. Unlike other demos, the trial and the full app share a single code base, meaning consumers don't have to restart their game or reenter their data where they transition to the paid app. The Windows Store and Windows 8 will also handle shutting down an app once the trial has ended. Microsoft also offers analytics so developers can see their conversion process from free to paid.
Microsoft allows for a full set of monetization options within an app, including in-app purchase, advertising, or using your own billing system. The Windows Store also allows developers to add XML receipt functionality to ensure consumers have paid for specific content within an app.
Payment is done on a monthly basis when a developer has exceeded $200 in unpaid app sales. Windows Store fees are 30 percent per transaction, but Microsoft's cut drops to 20 percent when an app reaches $25,000 in lifetime sales.
More information on selling your apps on the Windows Store can be found here. Will the new features be enough to entice developers, or will they remain with iOS and Android?