Windows Phone 8 arrives with the promise of games
Microsoft claims 46 of the top 50 apps and games are incoming, Gameloft bringing 12 titles to new OS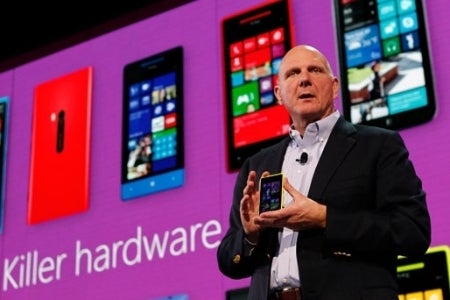 Microsoft unveiled its Windows Phone 8 operating system at a special event yesterday, revealing a strong focus on populating its ecosystem with games and apps.
The previous iteration of Microsoft's OS, Windows Phone 7, was widely criticised for the absence of many popular apps. However, Microsoft claims that 46 of the top 50 apps be available on the platform by the start of next year. That includes games like Cut The Rope, Words With Friends, Draw Something, Temple Run and the forthcoming Angry Birds Star Wars.
The iOS and Android publisher Gameloft also announced plans to bring 12 of its most popular games to the platform, including Modern Combat 4: Zero Hour and Asphalt 7: Heat. All of Gameloft's product line will be feature some form of Xbox integration.
"Gameloft is thrilled to be able to take advantage of the integrated Xbox gaming service on Windows Phone 8," said Gameloft's Baudouin Corman in a statement. "As smartphones continue to gain ground as one of the most widely adopted gaming devices, we see this as a great opportunity for us to optimise our titles for Windows Phone 8 users to enjoy with the platform's new features."
So far, reviews of Windows Phone 8 have been positive. The Verge points out a number of outstanding issues from Windows Phone 7, but praised Microsoft's persistence in creating the most distinctive mobile OS on the market.
"With each new generation of Windows Phone, Microsoft not only closes the gap with iOS and Android in important ways, but it also differentiates in important ways - and that might be more true in version 8 than ever before," the review states.
The negative aspects of Wired's largely positive review are limited to "minor and quirky" problems, though it does highlight the lack of popular apps as Windows Phone 8's single biggest flaw.
"The main reason I don't want to switch to Windows Phone 8 is because I don't want to give up Instagram, and I've heard the same sentiment from Android and iPhone users alike," the review states. "Instagram is a true 'killer app,' and there are likely countless potential switchers with a similar complaint."
Based on the Windows Phone 8 launch event, Microsoft is fully engaged with solving that problem. At present, the Windows Phone Marketplace has more than 100,000 apps, with another 200 added every day.